Houston Cougars 2021 position previews: Linebacker
By: Jimmy Schofield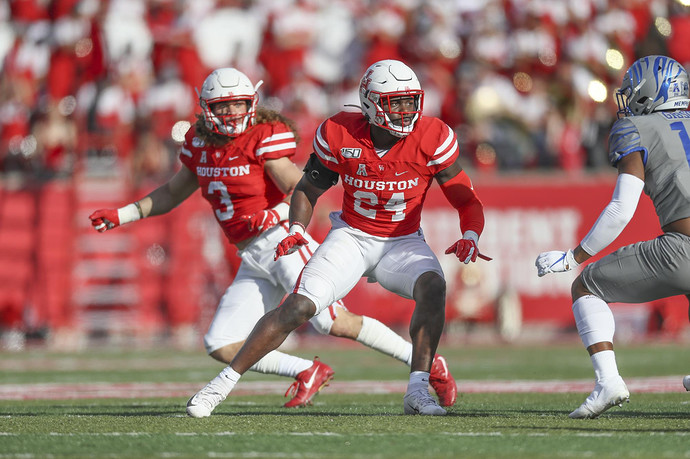 photo courtesy
uhcougars.com
"Our heart and soul"
That is how third year Houston Cougars head coach Dana Holgorsen described his linebacker unit during a Spring ball media conference call. This article looks at the two linebacker spots in first year defensive coordinator Doug Belk 's 4-2-5 scheme.
If the defense is to turn things around, the defensive front must do a better job against the run as they allowed 167.5 yards-per-game (66th nationally) last season and 4.3 yards-per-rush (67th). This was down from the 179 YPG on the ground (85th) and 5.2 YPR (117th) during the 2019 season. The pass defense allowed 231 passing yards-per-game (62nd) but allowed to many big plays in the passing game, allowing 13.2 yards-per-reception. This was an improvement over 2019 after allowing 288.4 YPG (124th) through the air. The defense allowed 398.5 yards-per-game of total defense (55th) last season and 5.8 yards-per-play (74th) after allowing 467.4 total YPG (118th) and 6.8 YPP (127th) in 2019. Those stats were also an improvement over 2018 in which the Cougars finished near the bottom nationally in nearly every major defensive statistic among the 129 FBS football programs. They finished 115th in rushing defense (221.1 ypg) and 127th in total defense (496.8 ypg) that season. They also were 90th in yards allowed per play (5.95). The defense allowed 32 points-per game last season (80th nationally), after allowing 34 PPG (113th) in 2019. The improvement has been steady, if slow however, as the unit allowed 37.2 PPG in 2018 (118th) in the last year of the two-year Major Applewhite era.
Archie McDaniel was hired as the linebackers coach in February after spending the past decade at programs such as Texas State, New Mexico, SMU and Tulsa. The Bay City native played at Texas A&M where he amassed 213 tackles, five sacks and two interceptions over his three-year career in College Station (2003-2005).
Having both played and coached inside and outside linebacker will help McDaniel coach each role, consisting of a middle linebacker (Mike) and a weakside linebacker (Will). The third spot will be a strongside linebacker (SAM) in which multiple players will play depending on the down and distance. That Sam role is basically a 'nickel' defensive back spot as most teams run a more pass-happy version of the spread offensive scheme.
Over the past two seasons, Grant Stuard has led the defense with a combined 158 total tackles (97 solo), 14.5 tackles-for-loss, four passes broken up and two sacks. With the Conroe-Oak Ridge product now a member of the defending Super Bowl champion Tampa Bay Buccaneers as "Mr. Irrelevant" (the final pick in the 2021 NFL draft), someone must step up to lead the group.
Donavan Mutin (6-0, 230, Jr.) returns as the Mike after playing in just three games last season due to knee injuries. The Spring-Klein Collins product is a defensive team captain whom Holgorsen absolutely loves, "the defense got worse after he got injured." Through those first three games, the Coogs D allowed just 78 YPG on the ground (234 yards). After? 221.1 YPG (1,106 yards). Mutin is cat quick but has added 15 or so pounds so he can bring ball carriers down at or behind the line of scrimmage. He also has a high football IQ, according to Holgorsen. Over 25 career games (15 starts), Mutin has 90 total tackles (53 solo), 5.5 TFL along with an interception and a fumble recovery.
Deontay Anderson (6-2, 230, Sr.) will join Mutin as the weakside 'backer permanently, after moving down in the box the last few games last season. Anderson, or 'Train' as McDaniel's recently called him, is a 'new age' linebacker, who can cover in space or tackle inside the box. The former Manvel standout and Ole Miss Rebel has the versatility to play in the box or against the pass as he has combined for 146 tackles (96 solo) with 18 passes defended (including two interceptions). The former 4-star prospect, who spent his first season at Ole Miss will need to be "coached up," as he often got out of position easily as a safety due to bad eye placement. Often times last season it appeared as if he was not playing his assignment but relied instead on superb athletic ability in order to make plays. This at times left teammates in the secondary out to dry. Thus far in the offseason Coach McDaniel has raved about his football intelligence, his want to learn more and his intensity.
Malik Robinson (6-0, 220, Jr.) and Mannie Nunnery (6-2, 205, RFr.). Coach Holgorsen called both "two of our most talented players that are just starting to come into their own that are freakish athletically but have to improve their football IQ." Robinson never got on track last season, playing in only four games due to injuries as he had just nine total tackles (seven solo). Ranked the #2 outside linebacker among the JUCO ranks by ESPN, Robinson had 42 total tackles, including two TFL, a forced fumble and a pass breakup two years ago in just six games at Fort Scott Community College in Kansas. In 2017, the Snellville, Georgia native played at North Carolina where he registered six tackles in 11 games, mainly on special teams. The 3-star commit performed at South Gwinnett High School where he had 96 total tackles his junior season. Nunnery started playing more as the season progressed last year, moving down into the box after having played safety at Pearland-Shadow Creek. Much like Anderson, Nunnery is versatile in that he can handle making plays in space, though his heart is in the box as he is a hard striker. For his career, Nunnery has played in ten games with 16 total tackles, 14 solo, 2.5 TFL and 1.5 sacks.
Defensive players that perform in the trenches usually gain weight as their careers lengthen. That is not the case for Jordan Carmouche (6-2, Sr.), as he weighed around 255 pounds four seasons ago after playing defensive end for Navarro Junior College (in 2017), where he amassed four sacks in two games before succumbing to a season ending shoulder injury. Now at a svelte 230 pounds, Carmouche is still a Mike linebacker size wise, but has the athleticism to play at either WILL or the SAM spots. In three seasons spanning 17 games (four starts), Carmouche has a combined 29 tackles (10 solo). Defining the term, 'position versatility,' Carmouche was a running back for SMU in 2016.
One player I will be excited to track the progress of over the course of his career will be Jalen Garner (6-1, 210, Fr.). Living in the northern suburbs of Atlanta, I watched Garner perform many times as he helped lead his Norcross Blue Devils to the 7-A state championship game, losing to one of the top teams in the nation, the Grayson Rams 28-0. If it were not for his size, he would have been offered by major P5 teams and been ranked higher than a 3-star by 247sports. Their loss however will be the Coogs gain as I see Garner as a Matt Adams type of linebacker. He has the body frame to put on a solid 20 to 25 pounds which will allow him to be an every down Mike or Will linebacker. Named the Atlanta Journal Constitution 7A Defensive Player of the Year last season, Garner produced 142 tackles (28 TFL) and six sacks. He added an incredible 200 tackles (148 solo) his junior season. Garner is also a hard hitter as he forced a combined eight fumbles over his final two seasons, recovering five of them. Garner is already a sure tackler as his speed allows him to run around blocks and he is one of those players that just has an instinctive nose for the ball.
As far as the SAM (nickel) spot is concerned, JoVanni Stewart (5-9, 194, Sr.) will probably see the most snaps over the likes of Amaud Wilson-Dalton (6-1, 200, RJr.) and Elijah Gooden (6-1, 215, RJr.). Stewart had a difficult time assimilating to his new surroundings as he had just 17 total tackles (9 solo) over six games. He was not afraid to get dirty though as 3.5 of his tackles were for loss. The Katy native transferred from West Virginia where he started 16 games (23 total) over the past three seasons, mainly at strong safety. 2018 was his best season as he had 54 total tackles, 38 solo, at a hybrid linebacker/nickel spot as he added 10.5 TFL and four sacks. This after a stellar prep career, helping the Tigers win 6A state championships in 2012 and 2015. During his senior season, Stewart led the defense with 101 total tackles, 10 sacks and 8 forced fumbles as they allowed just 3.9 points-per-game in 16 games.
Though Wilson-Dalton has only 16 tackles (10 solo) with a pass defended and an interception in 25 games over three seasons (mainly on special teams), I am personally hoping things click for the Cypress-Ranch product this season as he had an incredible high school career with 248 total tackles, 33 for loss, 28 sacks, 13 forced fumbles, six fumble recoveries and five passes defensed. Gooden also has not seen the field much over his career, participating in 26 games (also mainly on special teams) in which he has amassed 19 total tackles (13 solo), 1.5 TFL, a sack and two forced fumbles. He had a star-studded career at 2A power Boling, leading them to the 2016 state title while rushing for over 3,500 career yards and registering nearly 150 tackles and 18 sacks. Both Wilson-Dalton and Gooden have lost around 15 pounds in hopes of seeing the field more this season as opposing teams will test them, forcing both to tackle in space especially if either lines up over a slot receiver.
The linebackers will be key this season as they gain experience which is crucial as they must make sure both the defensive line and secondary are on the same page. Stay logged into Coogfans for more position preview articles as we have less than two months to go before kickoff against Texas Tech on September 4.