Houston Cougars 2023 position previews: Running Back
By: Jimmy Schofield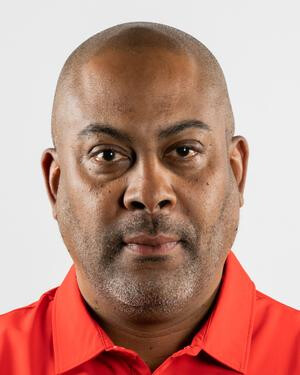 RB coach Mike Jinks. Photo courtesy uhcougars.com
When one thinks of the 'Air Raid' under Dana Holgorsen and his two head coaching stops at West Virginia and now currently at Houston (currently entering his fifth season), one normally thinks of the passing game. Make no mistake about it though, Holgorsen wants to be able to control the clock via the run game, even though statistically they haven't had as much success as the coaching staff would like, which led to a change in offensive line coach which we talked about last week. A lot goes into the run game, such as how the offensive line blocks up front, whether a quarterback audibles the direction of a play away from a blitz or if the running back is patient enough to allow holes to open in front of him. While Holgorsen has said the mind set offensively needs to change to becoming more physical, this article will preview the running back unit heading into summer camp for the 2023 season.
Last season the offense averaged 142 yards-per-game rushing, ranking them 76th nationally on 4.59 yards-per-carry (50th). They rushed for just 17 touchdowns however (83rd). The previous year the offense averaged 142.6 YPP (85th) on the ground on 3.87 YPR (90th) and 27 TDs (32nd). Overall, the run game seems to be regressing slightly as they averaged 143.1 yards on the ground in 2020 (83rd) and 188.1 YPG during the staff's inaugural season of 2019 (37th). They also averaged just 3.9 YPC (85th and 88th) during the 2021 and 2020 seasons compared to 4.85 (34th) in 2019. The time of possession also regressed, as the offense held the ball for just 29-minutes, 51-seconds to rank 65th last season, versus 33-minutes, 26-seconds of game time (EIGHTH nationally) in 2021. Not being able to run the ball when they wanted led to a less efficient offense as the team ranked 48th in Redzone touchdown percentage, crossing the goal line 41 times in 63 attempts for a 65.08-percentage. In 2021 the offense ranked 13th nationally in touchdown percentage in the redzone (39 TDs on 55 opportunities) which led to an offense that averaged 35.9 points-per-game (15th in the nation). They actually averaged more points last season though, 36.1 (16thh) due mainly to a robust passing game, which will change this season with a new starting quarterback and offensive coordinator, which we'll discuss in our last two preview articles covering the wide receivers and QBs.
When talking about second year running backs coach Mike Jinks unit, we must start with Alton McCaskill. In 2021 the true freshman racked up 793 rushing yards, 14 TDs and a 5.1 YPC average. At 215 pounds he could run between the tackles, showed the patience to allow holes to open up to gain the tough between the tackles yards on third-and-short, or could simply hit the edge and outrun defenses for large gains. The Oak Ridge product tore an ACL in spring of 2021 causing him to miss the entire campaign last season but was expected to be back to lead the unit this season, until he wasn't that is. For reasons still unknown, McCaskill hit the transfer portal in late April and committed to Colorado in May.
But the cupboard is hardly bare as last season's leading rushers return in Stacy Sneed (5-11, 185, RJr.) and Brandon Campbell (5-10, 210, RSo.). Kelan Walker (5-11, 228, SS) also returns as a super senior. The three newcomers include Tony Mathis Jr. (5-11, 210, RSr.), a transfer from West Virginia and two true freshmen; Parker Jenkins (5-11, 196) and Re'Shaun Sanford (5-9, 175).
After not seeing a snap over his first two seasons, Sneed burst onto the scene last year as he led the running backs with 501 yards on just 76 carries for a robust 6.1 YPC average, while crossing the goal line five times. Though listed at just 185 pounds, up ten pounds from his true freshman season, the former 3-star rated prospect is shifty enough to gain the tough yards in between the tackles and quick enough to gash opposing defenses outside as well. The Arlington-Mansfield Timberview product rushed for 2,607 career yards and 33 TD's at the prep level, while also adding 951 yards through the air on 53 catches (17.9 ypr) and an additional 10 TD's. He also won two state basketball tiles showing his athleticism and versatility.
The "thunder" to Sneed's "lightning" is Campbell, who was right behind Sneed as the former Southern Cal transfer ran for 435 yards on 90 carries for a solid 4.8 YPC average while crossing the goal line four times himself. Campbell missed the Spring due to shoulder surgery but should be full-go come Fall camp, according to Holgorsen. The former 4-star rated prospect for the 2021 class (per 247 which ranked him as the 22nd best RB and 48th best overall player out of Texas) played in three games at USC, rushing for 53 yards on 12 carries. Campbell sat out the 2020 season at Katy due to Covid concerns. In 2019 he ran at Pearland he averaged 7.6 ypc (879 yards on 116 carries with 19 TDs) while catching 14 passes for 280 yards (20ypc) on his way to being named to the All-district First team. In 2018 he played for Katy-Taylor, rushing for 676 yards on 131 carries (5.2 ypc average) with 5 TDs and caught 13 passes for 198 yards (15.2 ypc) and an additional two scores. Though seen more as a physical, between the tackles rusher, Campbell has the speed (a verified 4.58 40) and acceleration to burst through holes for huge gains.
Walker is a "Super Senior," playing in his sixth season which is allowed due to the NCAA Covid waiver given to every college player that played during the 2020 season. The DeSoto product is a big back (nearly 230 pounds) who's played mainly on special teams as he's carried the rock 43 times in 35 career games for 251 yards (5.8 YPC) and a TD. Injuries and a lack of vision along the line of scrimmage which hinders his ability to find open holes quickly has led to his lack of playing time over the years but he's a nice depth piece that every successful team needs in order to win games.
Mathis Jr. was a big get, especially after McCaskill transferred, as the West Virginia transfer will probably be the third back that gets carries in big moments. The Orlando, Florida native has played in 31 career games over his four seasons in Morgantown, starting 11 games. The former 3-star rated prospect out of Cedartown (Georgia) has 943 career rushing yards on 229 carries (4.1 YPC) with 6 TDs. He's caught 17 career passes for 64 yards and a score as well. Much like Campbell, Mathis Jr. is big enough to wear down opponent's between the tackles yet has nice acceleration to hit open holes hard for big gains.
The two true freshmen, Jenkins and Sanford, will really have to impress the staff if they want to see playing time carrying the ball, though Holgorsen is already gushing over both of them as he said post spring ball, "You can tell those guys can run. You can tell on video. I didn't know they had track speed like that, but you can tell they have good football speed." Jenkins, a 4-star signee out of Klein Forrest has the potential to be an "impact true freshman" according to this 247 article which mentions his 10.7, 100-meter dash this spring along with a sub 22 seconds in the 200M as well. Jenkins averaged nearly six yards per carry (820 yards on 139 carries) over 19 games the past three seasons while also averaging over 12 yards-per-reception in the passing game (375 yards on 30 receptions). He chose Houston over Big 12 programs such as Oklahoma State, Texas Tech and Kansas State and other P5 programs such as Florida State, LSU, Ole Miss, Tennessee and Penn State.
Sanford is a 3-star (96th rated RB and 241st in Texas) only because of his size because he's a 5-star based on production. Last season alone he averaged 8 ypc (2,666 yards on 332 attempts), adding 25 TDs for a Harker Heights program that went 12-2, losing to eventual 6A state champ DeSoto in the Division II in the quarterfinals. Sanford was one yard shy of rushing for a combined 5,000 over his final two seasons of varsity football, and for his career amassed 6,440 rushing yards (over three seasons) while adding another 771 receiving yards on 55 receptions (14 ypc). He totaled 59 TDs across 36 career games as he's a true "game changer" who's a threat to take it all the way each time he touches the ball. Both Parker and Sanford have gained over 10 pounds as early enrollees and with Parker already being near 200 pounds, he'll also be a physical runner between the tackles to counter his speed outside, as will Sanford who's a deceptive 185 pounder.
Holgorsen on the overall talent of the room post spring, "Coach Jinks did a good job adding to the running back room. Between Stacy Sneed, Brandon Campbell, Kelan Walker that's a deep room now. The depth is as good as I've seen since I've been coaching (here). Tony Mathis is a 4-year player in the Big 12 and a big time back and the two freshmen are as good as advertised. Now the thing is we only have one ball, but that one ball will find a lot of different people."
Stay logged into Coogfans as next week we preview arguably the deepest position on the team; wide receiver, before concluding our Summer Preview series with the quarterbacks.