Houston Cougars 2023 Position Previews: Tight End
By Jimmy Schofield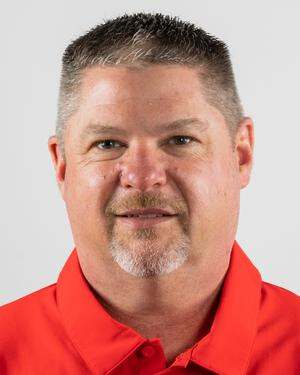 Tight ends coach Corby Meekins. Photo courtesy uhcougars.com
The tight end position will be very important to fifth year head coach Dana Holgorsen's offense this season as it's the Coogs first in the Big 12, a much more physical league than what they've experienced over the past 10 as members of the AAC and definitely that of the 10 before that as part of CUSA. Not to mention breaking in a new quarterback for the first time in four seasons, the tight end unit will be the bridge between the pass game and the run game as they'll wish to establish the line of scrimmage early in the season in order to not only protect the QB, but also run the ball in order to control the clock to help protect their defense as well.
Holgorsen mentioned this during a post spring press conference, "We're going to use them. Those guys are critical when it comes to scheming up runs. We need to get some movement coming off the ball. Coach (Corby) Meekins does a great job with those guys."
'Those guys' include Matt Byrnes (6-6, 250, RSo.), Logan Compton (6-4, 245, RSr.), Bryan Henry (6-2, 240, RFr.), Darson Herman (6-3, 245, RFr.) and newcomers Mike O'Laughlin (6-5, 250, SS), a transfer from West Virginia and true freshman Jett Runion (6-4, 227). (note of the group only Herman is a walk-on, verified by the 2023 UH football media guide).
Byrnes was solid in his first season along Cullen Boulevard after transferring from Iowa Western Community College late in Spring of 2021.Byrnes got better in the pass game as he caught four passes for 50 yards and a touchdown in 13 games as he was mainly a blocker as a second-string TE when the offense was in 12 personnel (two tight ends, one running back). Over the course of his three collegiate seasons, he's added 15 pounds to his sturdy 6-6 frame. Byrnes redshirted during the 2021 season after acclimating due to that late transfer, playing in just one game. In 2020 as a true freshman (in which they played in the spring of 2021 due to the Covid pandemic), he averaged 12.1 yards on 14 receptions (1 TD) in 8 games. Prep Redzone had this to say about the Chicago De La Salle product, "incredibly soft hands and good top-end speed for a big man. Byrnes has the ability to split out in the slot and is a crisp route runner when doing so. He can stick his toe in the ground and will accelerate coming out of his cuts. He doesn't drift at the top of his route and knows where to sit in zone coverage. He does a good job exploding off the football and rolling his hips on contact. He's quick to the point of attack and will play with consistent hand placement on the breastplate."
Compton played in 11 games last season, mainly on special teams as he had one reception for 11 yards. The Tomball native was rated the top tight end out of the JUCO class after catching a combined 26 passes for 326 yards and 3 TDs at New Mexico Military Institute during the Spring and Fall 2021 seasons. The former 3-star rated prospect averaged 16 ypc at Tomball (512 yards on 32 catches) while also being named Second Team All-District at defensive end during his prep career. Logan describes himself as a hybrid tight end, "Everyone sees my size and describes me as an inline blocker, but my film says otherwise. I'm crushing defensive ends. Crushing linebackers. You can't stop me once I get my feet going. Then I line up outside and defenders don't realize I run a 4.58 40-yard dash." Holgorsen complimented Compton saying he's "getting better after getting a lot of reps (this spring)."
Henry "flashed" over the spring, according to the head coach, "He can run, and he can pop you. He's up to 250 now, he looks good." The Belton native caught one pass in five games last season for 10 yards after recovering from an injury late in his high school career in which he averaged 15.5 ypc (1085 yards on 70 catches) with 11 TDs over his final two seasons on the prep level. Henry is also very gifted athletically as he played basketball and baseball for the Tigers and has deceptive speed for his size when he lines up in the slot but also a nasty streak (blocking opposing defenders 10 to 15 yards back when lined up as an inline TE).
Although Herman is a walk-on, the Georgetown (Tx) product is the definition of an athlete as he had a combined 7,943 yards from scrimmage with 88 TDs over 32 games his final three seasons as a running QB for the Eagles. Not rated by 247sports, Herman is the definition of a project but as a physical player as he is, there probably isn't a better spot to put him at than TE. He's also a hard worker as he's already added 30 pounds to what was a 215-pound frame his senior season at Georgetown.
O'Laughlin's collegiate career has been defined by injuries thus far as he hasn't played in more than five games in each of the past two seasons at West Virginia. When he does play, he's a ferocious in-line blocker. In 32 career games over his previous five seasons in Morgantown, the Chicago native has 37 receptions for 292 yards and a TD. "He has over 1,500 reps in the Big 12," Holgorsen said, "we just have to get him to September."
Runion, much like Herman, is a project as the Aubrey native played defensive end and tight end as well as participating in track in the discus and shotput. The 3-star rated prospect averaged over 20 ypc in 2021 (350 yards on 17 catches with 5 scores).
Holgorsen on the room in general, "We got better there. That room is shaping up to have more depth than its ever had." Check back next week for our final Position Preview article as we focus on the quarterbacks and the new quarterbacks coach.