http://www.uhcougars.com/sports/m-basebl/spec-rel/031518aaa.html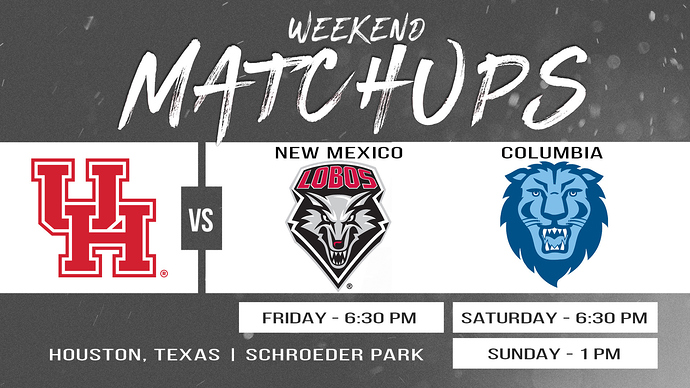 NEW MEXICO
New Mexico will meet Houston and Columbia this weekend with a 6-10-1 overall record.
The Lobos have dropped four straight, including a pair of midweek losses vs. Cal Poly and Pepperdine.
New Mexico opened Mountain West Conference play last weekend, falling in a series, 2-1, at Fresno State.
As a team, New Mexico is hitting .276 with five home runs and 83 RBI, led by Hayden Schilling's .414 average and 12 runs scored.
Danny Collier and Schilling pace the club with 11 RBI, while Collier is hitting .351 with a team-high 26 hits.
The pitching staff owns a 5.48 ERA with 136 strikeouts to 66 walks in 149.1 innings.
Opponents are hitting .274 against the Lobos.
Weekend starter LHP Robert Gasser leads the club with a 2.95 ERA and is 1-1 in five appearances and four starts. RHP Justin Slaten is 1-3 with a 5.40 ERA and RHP Cody Dye is 0-3 with an 8.53 ERA in four starts.
Reliever RHP Christian Tripp has a team-high three saves in five relief appearances and owns a 2.35 ERA and is 1-1 with 13 strikeouts in 7.2 innings.
SERIES HISTORY vs. NEW MEXICO
Houston and New Mexico have met three previous times, back in a three-game series in Albuquerque in 2015.
The Cougars swept the weekend series out there to own the all-time series at 3-0 over the Lobos.
All three wins for Houston were one-run wins (6-5, 6-5, 8-7).
COLUMBIA
Columbia enters the weekend with a 3-11 record and has played all 14 games on the road thus far.
The Lions have lost four straight games to Texas schools, including a pair of midweek games at Texas A&M-CC (3-6) and at Rice (5-14) Tuesday and Wednesday.
Columbia is hitting .228 as a team with four home runs and 47 RBI.
Leading the way offensively is Liam McGill with a .353 average, two home runs and 13 runs scored, while teammate Joe Engel follows with a .346 clip and 18 hits.
The pitching staff owns an 8.02 ERA and has fanned 75 and walked 47 in 113.1 innings. Teams are hitting .344 against the Lions.
RHP Ty Wiest is 1-2 with a 6.06 ERA. He has 13 strikeouts n 16.1 innings.
RHP Harrisen Egly is 0-2 with a 5.84 ERA in three starts with 12.1 innings pitched.
LHP Ben Wereski is 0-1 with an 8.56 ERA through three starts and has fanned 12 in 13.2 innings.
SERIES HISTORY vs. COLUMBIA
Houston and Columbia have met four previous times in a four-game series at then, Cougar Field, in 2015.
The Cougars and Lions split the four-game set with Houston winning Game 1 (3-0) and Game 3 (8-7) and Columbia winning Game 2 (4-5) and Game 4 (7-12).