Our next coach is going to benefit big time.
The Houston Rise Goal is $150M. We are one-third of the way there.
Has it been determined if we are going to shoot for the higher end football facility, or go with the scaled back/original one? Its not my $$, but I have to agree with Sampson on this one. If you can, don't just build something to get it done but it is already needing upgrades the minute the new doors open.
I seem to recall the break ground time was going to be this summer, but that has since been pushed to post football season. Perhaps that extra 6 mos is to get more funds in place for the better facility. I have no clue.
I believe the extra time is because a lot of the west endzone bleachers will need to be removed, it is no longer outside the stadium blueprint.
As I recall, in the interview with Andy and Pez, Pez was vague about the time period for the Rise Campaign, which is understandable.
Correct me if I am wrong, but I thought I read somewhere we had $80M to $90M already for the Football Only Facility. If true, is the $50M part of that?
Rise is separate from the Football Operations Building.
Thanks Oldtime. I thought the Football Facility was one of the primary benefactors of the Houston Rise campaign.
Rise is supposed to help pay for scholarships and facility upgrades for all sports.
Not if we keep donating and get other people interested.
Kendal Briles. Done Deal!
Sell the naming rights to thr operations facility and get you prob good $5-$15 million right there
We will have bells and whistles
Guess I'll donate the profits from my only fans to the Houston Rise Campaign
Literally? Because that would be a game changer.
@TexasCyclone came through for us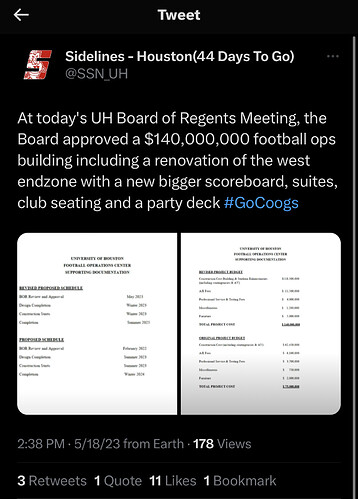 https://twitter.com/ssn_uh/status/1659282210258579470?s=46&t=QaTBQ_PFQ7gLVOFwqBKG5Q
This is the best news for UH Football since accepting a B12 invitation. Better than playing UT at TDECU because it will benefit UH for years to come.