http://www.uhcougars.com/sports/m-baskbl/spec-rel/121217aac.html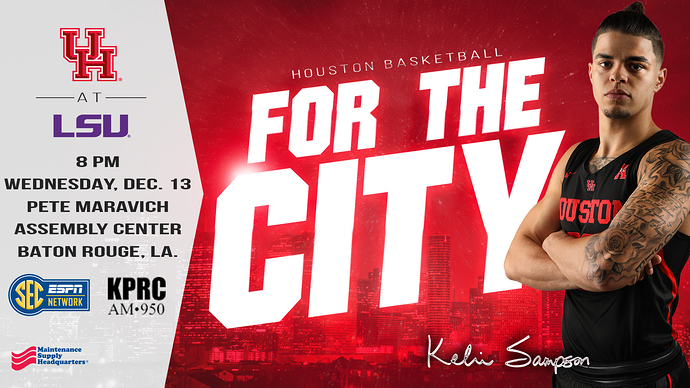 ABOUT LSU
• LSU brings a 5-2 record into Wednesday's game following its 97-84 win over UNC Wilmington in Baton Rouge, La., on Sunday afternoon.
• Was the Tigers' second straight victory… Last LSU loss was a 94-84 decision vs. Marquette during final day of Maui Invitational on Nov. 22.
• Tigers have posted a 4-0 record inside Maravich Assembly Center this season.
• Against UNC Wilmington, senior forward Duop Reath came off the bench to lead all players with 30 points on 13-of-17 shooting… Sophomore guard Skylar Mays added 14 points with two rebounds and three assists… Sophomore forward Wayde Sims posted 11 points with six rebounds, while senior forward Aaron Epps tied with freshman guard Brandon Rachal for game-high honors with seven rebounds.
• This season, Tremont Waters averages 18.3 points per game to lead four Tigers in double digits and tops LSU with 6.6 assists per game… Reath ranks second with 14.6 points per game but leads the Tigers with 4.9 rebounds per contest… Mays ranks third with 12.1 points per contest, while Sampson is fourth with 10.0 points per game.
• Head Coach Will Wade is in his first season at LSU and his fifth season as an NCAA collegiate head coach.
• Has compiled a 96-47 record during his career and is 5-2 at LSU.
• Previously built a 51-20 record at VCU (2015-17) and a 40-25 mark at Chattanooga (2013-15).
• Wednesday's game will be the first time that Wade has faced Houston during his career.
• Wednesday's game will be the first time that Wade has faced Houston Head Coach Kelvin Sampson during their respective careers.