This is what being B12 will get you in matchup's
So LSU and we're at Utah. What a schedule that'll be.
That's great! I started at LSU but am now all UH. My sister graduated from LSU; she and my nephew are big time LSU fans. Ought to be fun.
Indicates UT is playing in Houston this season, turf wars have began
Where are you seeing that?
How horrible was LSU that we beat them in 1999?
I am good with this. I wasn't a fan of having the Tech game or Washington state game moved to NRG for a kickoff (even though the WSU game was like the 3rd game of the season), but having a true kickoff game every few years (and not losing an existing home game) is good with me.
This was my guess when Khator was looking for a team to play. This just makes sense.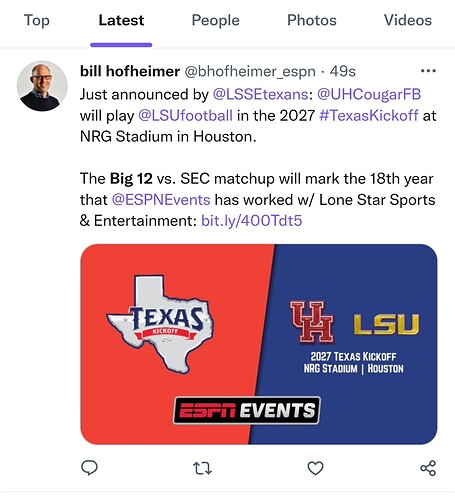 The money better be good since we will be a 5th year P5.
My guess in September.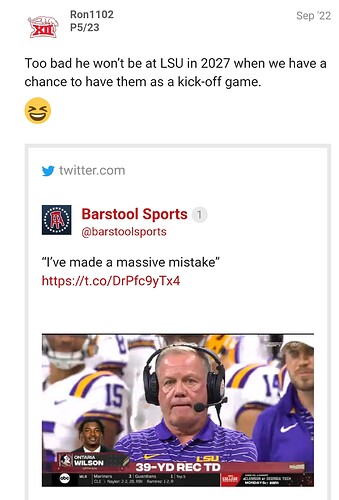 Game will be sold out, hopefully more UH fans we will see lol, we showed well vs OU attendance wise
To the point where they got rid of their coach and found some random guy named Nick Saban.
They fired Jerry DiNardo after they lost to us. We should have beaten them another time but Faulk ran back a punt and they won like 35-34 or something like that. I don't have my stuff available to check it.
Faulk was supposed to be suspended that game. They "unsuspended" him at halftime.
Have to start 3-0 this season in what looks to be a very feasible early season schedule in 2023.