Those maybe conference games!

I imagine a ton of 4 and 5 star recruits in the Houston area in the 2028-2030 classes will be at that game.
They never felt the need before and for them to take on Houston with the chance that they might lose that game and thus further elevating the Coogs…they have to be worried about something. It could be Texas joining the SEC, so now LSU wants more visibility in Houston, but they could easily get that by scheduling Rice.
I don't think they are like ut. They are not afraid of playing teams. They also have a significant presence in this area. I just like that we were willing to play them in NRG and not the cows.
Went to LSU my freshman year, wife graduated from there, this will be awesome Geaux Coogs
Just beat them 45-0.
Don't care about LSU
Damn, not even in the bowl game
He's an LSU fan, as are most Louisianans, from what I can tell.
Definitely we're getting this game bc of big12 and they want a game in Houston bc of a$m and Texas. Hopefully we can later start a series.
No one wants to see Rice. The viewership is not as good as 2 P5s. ESPN is hoping to draw that viewership of almost 6M or more like when we played OU in 2016. Rice is not going to do that.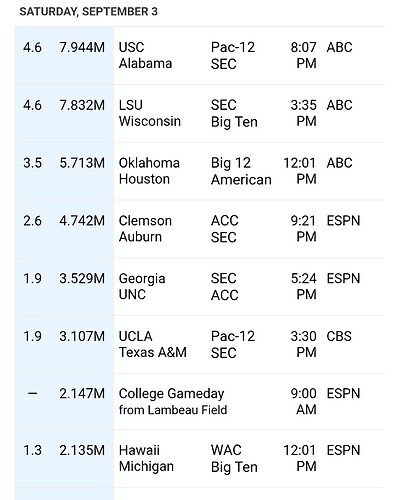 No No No! We need to win but the score needs to be closer so it will be a really good game with high viewership.


The largest LSU alumni chapter outside of Baton Rouge is in Houston.
But that was never a game scheduled by UH for TDECU, it was a Kickoff Classic scheduled by the Texan organization.
Agreed…this is a neutral field week zero event.
Yes. Different deal and I would love to do it yearly for that $.
Just put the source article of the $3 million fee here.