Good things happening for the Coogs in Conference this weekend: UCONN, Cincy, and Tulane all suffering losses this weekend. Coogs are aiming for the 2 or 3 seed for the tournament in order to be opposite ECU in the conference tourney.
Also, up to 40 in the RPI after last night. Win today should push them into the high 30's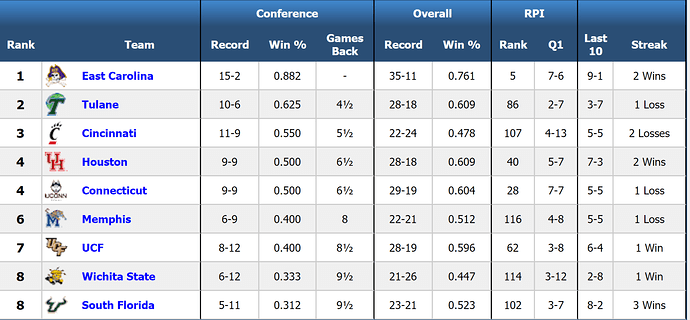 UNLV pitcher today is Greg Maddux's son: Chase Maddux. Greg is a volunteer assistant for UNLV.
UNLV also has the 9th ranked player for the upcoming draft leading off and playing SS: Bryson Stott.
Whitting mentions the offensive struggles as of late. Said they thought they had things fixed going into the last SHSU game, but haven't hit well since. Need to get the bats going.
Top 1st
Single, K, 2 steals and a groundout to 2nd score a run…Rebels lead 1-0
K looking
M1…UNLV leads 1-0
Bottom 1st
Triolo bomb (UNLV 3B got upset for some reason)…Tied 1-1
2 out single for Cherry. Steal and a walk by Bielo put runners on 1st/2nd. That's it for the Coogs
T2…Tied 1-1
and the oh pick off the bases happens for the umpteenth time against Coogs this year.


Bottom 4th
Leadoff double by Lockhart, single by Fuentes moves him to 3rd. Grounder and they go home to get Lockhart; he stays in a rundown to get runners to 2nd/3rd. Lovelace squeezes Fuentes home…Coogs lead 2-1
Triolo singles Hyland home…Coogs lead 3-1
T5…UH leads 3-1
Triolo hitting well today!
pray10 – where do you think the need to finish in rpi to get a Regional bid regardless of what they do in Conf Tourney.
have to find way to win 2/3 from Tulane next weekend ! I feel need to go 4-2 rem part of Conf but 3-3 may be ok if they can win both mid-week gms.
If we could up to around 30, we should be good. Need to win 3 of 4 this week and 3 of 4 the following week to probably get there (as well as hold on today). We've got a good schedule down the stretch to help our numbers.
But, it would be nice to finish 2nd or 3rd in conference and avoid ECU. They're the only ones that scare me in conference. Would be great if UCONN and USF end up on ECUs side of the bracket as well.
Top 5th
1 out single followed by a double score a run…Coogs lead 3-2
M5…UH leads 3-2
I was thinking mid 30s would do, so def little more work to do.
38 is usually considered the bubble. Get above that and you're probably safe. Below that and you'll be sweating it out.
are for #s purposes below #38 would work . Say 31 !


Bottom 5th
With 1 out, Cherry walks on 4 pitches, steals 2nd, and Bielo walks on 4 pitches. UNLV goes to the pen.
Cherry caught stealing at 3rd, Bielo to 2nd (UH coaches aren't happy about the call at 3rd). Lockhart flies out.
T6…UH leads 3-2
Top 6th
Single, picked off, single, double, K swinging, and Aguilar's day is done. Bretz in.
4 pitch walk loads the bases. K looking.
M6…UH leads 3-2