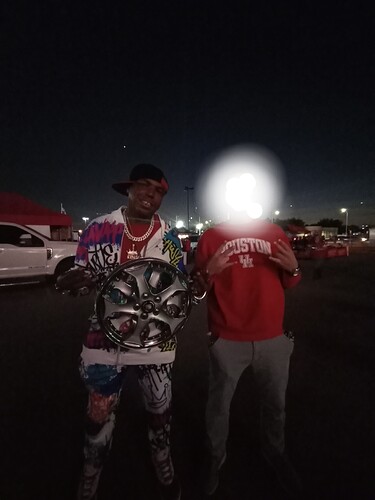 Everything just feels right again. I haven't personally seen him in many years. Feels like 2011 for me.
Go Coogs!!
Hubcap guy is a good dude. Odd and a little off at times, but he's always having a good time and taking pictures with anyone who wants one.
I guess things are returning to normal.
He was a celebrity at The Rob
Good to see he's still alive. Did you ask him where he's been all these years?
No. I gave him a beer. Lol.
Now we just need Herman to show up with his grill and a Peach Bowl invite and we will be back in 2015. Haha
The last time I saw hubcap guy in my section at tdecu was the Louisville game in 2016, until the SMU game this year, right after they scored to tie it up with less than a minute left, low and behold here comes Hubcap Guy. I yelled out in elation, "yes! He's here! We're gonna win it!"
Then, of course seconds later, ya know… Marcus Jones.
I've see him at other games this season.
He strolled by the Club last night – I was sitting next to some of 90s team and they loved him – "Spin It! Spin It!"
He frequents our section 114. Always very friendly and enjoys a good joke. I love that we have characters like that. It adds to our charm.
Part of the growing ambiance of the Cage !
Beat the Cons !
I saw him at Timmy Chan's on Scott Street during the pandemic last year. No hub cap.
But a pretty sweet red track suit.
You have a very bright smile.
He told everyone in the bathroom that they were all at the game to see him since the Coogs have everything wrapped up already