Are you coming back in 2019?
I didn't drop last season but your post made me wonder what kind of price increase I might experience yet again for season tickets!

I was so caught up in the news cycles that this thought had not crossed my mind. Ugh.
I wasn't going to renew but am going to now.
With a head coach salary jumping from what? 1.5 mil to what? 4 mil, ticket prices are sure to go up, even tho we get three game where we beat them down and two where we get beat down early on . . . . .
But we do get (hopefully) another exciting O and (but we don't know yet) a lockdown defense . . . . .
I'm already looking forward to next FB season, while enjoying the exciting BB season we are in the middle of . . . . .
I said as soon as Briles was gone I was back. Man of my word.
More than anything else, I think this is why Major was fired. Who the heck would have gone into next season optimistic? Who would have bought tickets?
Prices would have been higher anyway because of the move of the WSU game to Reliant. Will the price of a TDECU game increase either for season ticket holders or single games? I hope not.
I plan to get season tickets or at least a mini plan not including Wazzu. I don't imagine making that game on a Friday night from Dallas with two high schoolers.
OU and UNT games for sure. Wasn't going to OU game with CMA at the helm.
IMO opinion was straw that broke the camels back. After the Army debacle he was Dead Man Walking, no way could bring him back. There was ZERO buzz about program going into 2019. Ticket sales and attendance would have been brutal
This is an honest question. With the info Duarte put out about CDH's comp structure (base of $300,000 with the millions being paid as "additional comp" from boosters), how exactly does his high salary affect ticket prices? I'm assuming Tilman and other boosters don't get a cut of ticket revenues to pay back their investment. A rise in ticket prices would need to be solely a factor of increase in demand instead of increased costs, right?
For what it's worth, I'm jumping back on the season ticket bandwagon after a few years off due to finances. I looked at tickets in Section 114 near my buddy and the current prices on the website are exactly what he paid for his tickets last year (seat cost + CP donation). So, at least at this point in time, it does not look like ticket prices have gone up. I suppose that could change but I hope it doesn't. We need more butts in seats r
I was going to cancel my season tickets if Apple Juice was coming back.
2019 Ticket Seating Map (You can find it on the ticket site when you select deposit and Find Tickets:
https://uhcougars.com/sports/2018/6/12/tickets-hou-tickets-html.aspx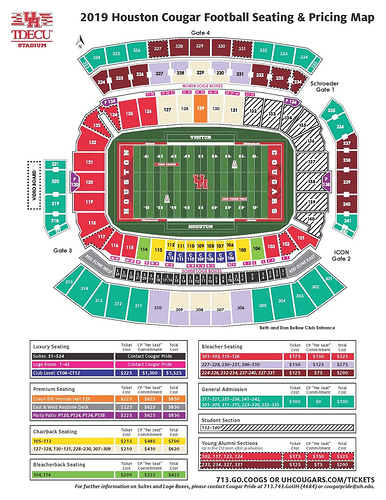 Looks like someone over there is listening. GA is back, Upper 300 corners are GA now and not much, if any, price increase.
Wow, that is a lot of young alumni sections. If that kind of demand is there then it is a good sign for current and future attendance.
It's the same sections. This is my last year as "Young Alumni", so I would have upgraded if they changed them up. They only offer the corners for some odd reason. It would have been great if they made them all in the same area from lower bowl all the way up.
You better renew in order to live up to your screen name

For some reason I'm finding only the 2018 map and not the one you're showing, @pray10.
Head to the Purchase tickets site, click on Football, and then click on the Find Tickets button next to the Football Season Ticket Deposit box on the Right hand side. It'll show the map I posted above.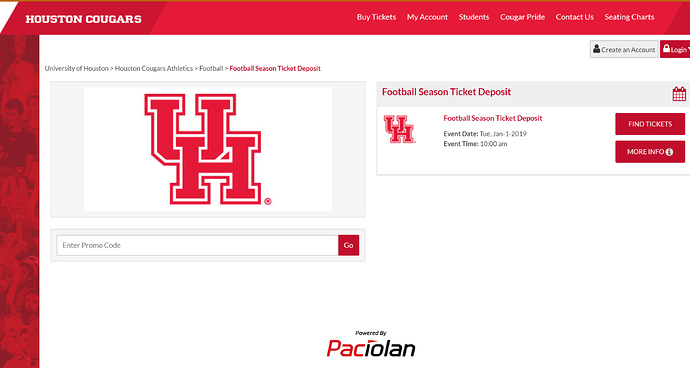 Cool. They just need to update the regular site with the current info.
Was over at the Salt Grass and the Pat's Ribeye went up $2 and I'd imagine the slots at the Nugget have tightened up even more.