What is old is new again.
We have a Cold War and Inflation and run away crime in our cities. It is the 1970's all over again.
Leisure suits have got to be making a comeback.
I have mine in the closet. I spent a summer is Seattle and we joined the Leisure Suit Preservation Society
I have got to practice doing the Hustle. I hope I don't throw out my hip.
Do they make platform shoes with orthopedic inserts?
I think Rockport has a line vibram sole platform shoes…lol. i saw it on my AARP newsletter.
For the sake of mankind, I hope not.
Ugliest shoe ever created. Yes, I did own a pair. Walked to the top of Victoria Peak in them. Very dumb move. They were better coming back down though
Earth Shoes anonymous…
I had a pair as a kid, thanks a lot mom and dad.
Rocker here. Hated disco so much I started listening to country. Rock reemerged just in time.
Yeah me too. I hated disco then but when you listen to it now, it still sounds pretty good. Do you know what still sounds great? Early 70s R&B. That stood the test of time.
The Allman Brothers Live at the Fillmore East is the greatest live album ever.
Even disco sounds better than current pop. Computer generated sterile with no soul.
You want shoes, atheltic shoes to walk with, to run with?
If you do not know the brand let me introduce to:
Hoka One One
Feet down the best athletic shoes on the market. I buy last years model every year. That way I save about $60. Believe you me there are worth every penny.
even today when it comes on the 70s station I change channels
I posted about Antone's Po-Boy prices a year or two ago and boy have they gone up again!
Today at HEB — $7.50 for a Super!!! Seven freakin' fifty for a po-boy !!! WOW !!!
Back when I moved here in '71 the Regulars were fifty cents and the Supers were seventy-five.
That's a 10X increase in prices or a 10X decrease in your purchasing power.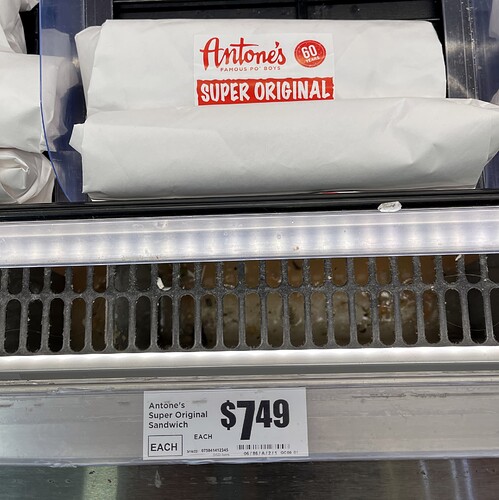 To give you an idea of how reported inflation #s may be understated, according to the Bureau of Labor Statistics (BLS), the Super should only cost me $5.33: CPI Inflation Calculator
Same sandwich, early 2020 —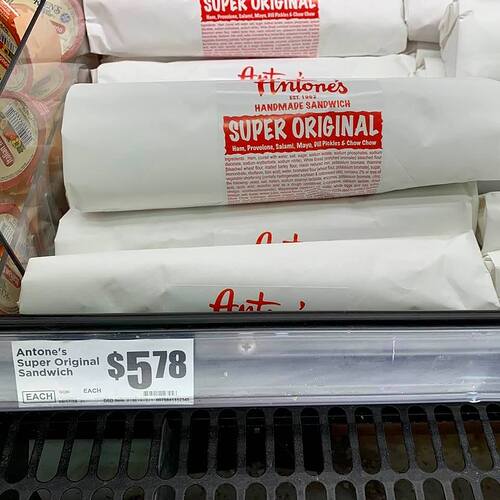 I wouldn't even pay 5.33…overrated sandwich for sure.
I have a rule, no sneakers over $30 and no car over $30,000. I wait for Asics to go on clearance at Academy. Inflation got me as I used to be $20 & $20,000. $95 for last seasons? That's 3 pair for me.