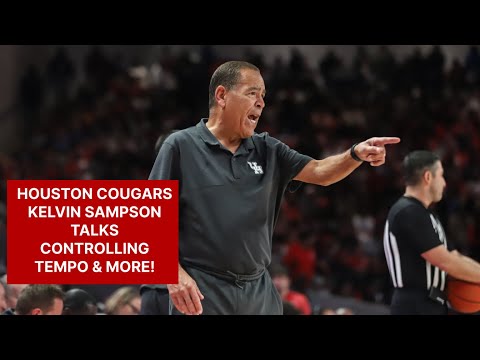 Thanks @AYanez_5
To be brutally honest, CKS needs to stop comparing his team to his Oklahoma teams. He is a better coach than he was in Oklahoma. He has collectively brought lot more talent at this point then he had in OK and his player development has been more dramatic then he had in OK. His success is already turning out to be more then he had in OK. He needs to start saying this is the new evolved standard and it really is.
I think more than anything he is using OU as a point of reference!
I am not sure you listened to what he said. He was comparing what he did against Kansas to slow them down (the #1 team in the country at the time) to what teams are currently doing to Houston. It was entirely relevant.
Also, Sampson's record at Oklahoma - especially in the second half of his tenure there (after he had built a strong foundation) - was exceptional. He had a Final Four/Elite 8 run back to back, just like he has done in Houston. He won 3 Big 12 Tournaments in a row. He consistently won 70% + conference games in an elite league.
Kelvin has been a GOAT for a very long time, and while he has consistently become a better coach over time, he has always been great. And he's always put an excellent product on the floor. If he wants to reflect on some of his earlier teams, I recommend you should just pay attention, and you might learn something.
I do hope you realize his entire core staff — minus KC Beard — came from his Oklahoma days, as well. It is all relevant.
From 1994 to 2005 season, in OK he made 11 tournaments and in those 11 times, he had one sweet sixteen, 1 elite eight and 1 final four. Compare that to his greatness in Houston, he has made 4 NCAA tournaments and he has already equalled his achievements in Oklahoma. So, please set aside your logic on what is relevant as far as Oklahoma goes. He has achieved next level in Houston, it is about time he realizes that and gets comfortable with it and starts acknowledging it.
Just needs to push through and win a National Championship now is all he has left to do
Wow can fans be suspended for stupidity
To be brutally honest. CKS can make any comp he wants. He has earned that right.
I agree. Move on Coach Sampson. It's time. I only want to hear stories about Indiana now.
Yup, but b4 that to be in the finals.