Well that is one less vote for Trump.
Oh you think i would vote for Trump? Wrong!
You like the real life version of him.
You are so much a Trumper…lol
Kennedy gets it, he understands. Like to hear more on the issues and policies he'll adopt to deal with those issues…The mainstream media is getting quite frantic and shrill about his candidacy. Polling quite well in New Hampshire. His summation of U.S. foreign policy and how we look at things as a society are quite insightful. Warmongers. Are going to hate him like his father was by them. It's time for Biden to retire before he blows up the planet.
Poli sci horseshoe theory in full effect here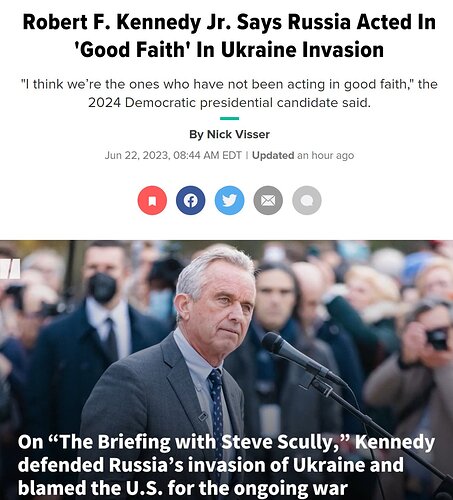 I bet he has financial ties to Putin/Russian oligarchs, and it is why the right loves him. Right ITCoog?
He's right they did, U.S political elites are the ones who didn't
You are completely and utterly wrong.
Putin is a bad guy.
You side with bad guys on this one, which is weird.
Nope I am not and Kennedy not. I know it fails the litmus test to tell the truth of what our policy has wrought , for those who have a urge to paint the U.S. as some benign actor in this mess of a war. But it doesn't meet the true facts behind it. Kennedy is right on the facts. Ukraine was willing to negotiate with Russia for a settlement, until the U.S. told them no don't do it.
Not true, but go ahead with your RFK Jr. conspiracy theories.
If anyone looks at the facts and what has truly transpired since the collapse of the USSR and how the U.S. has lied and deceived Russia and how former Russian ambassador to Russia and others highly respected foreign policy experts, said we were heading for trouble with Russia by pushing the policies we were it's no surprise we are where we are in this Ukraine Russia conflict
They said years ago this is where we would end up being. But of course the neo cons ignored those voices, just like they are now.
I'm not a neo-con. Very against the middle east wars.
That being said, this is not that, and your facts are so suspect as to not warrant discussion.
Pro Putin=not to be taken seriously. Congrats, you are in cahoots with the RWNJs on this board, whom despise almost every other thing you care about.
This is feeling like KenJourney 2.0.
Notice how its just the Maga / conspiracy crowd pumping RFK Jr.
Go check former Russian Ambassador Matlock take on what we been doing and his outlook on there future consequences. Look at what former German chancellor Angela Merkel take on what she said the U.S. was doing and would result in. Look at former Ambassador George Kennan to the USSR said in U.S. policy towards Russia after the collapse of it. He said it made no sense. Many many others who are highly respected foreign policy experts who said the same thing. I'll take they word of over others. You'll never hear their past or present opinions in U.S. mainstream media because it doesn't fit the narrative they want the American people to hear, because they know the masses are sheep and can be easily herded. You want the truth you got to go dig for it