I was thinking the opposite - top of the bracket looks tougher to me. No one that can't be beat either way
I want that matchup with A&M.
How many weeks was ND ranked? One good team on the lower half of the bracket. The top half is better. Of course, transfer portal changed everything.
That's what makes it a good draw for us. The primary point is to beef up the schedule.
Anyone know anything about Butler next season? Guess I'll give some Big East previews a listen.
This has been Butler last 4 years. Basically a bubble team. Borderline NCAA tourney team. So, a loss wouldn't be great.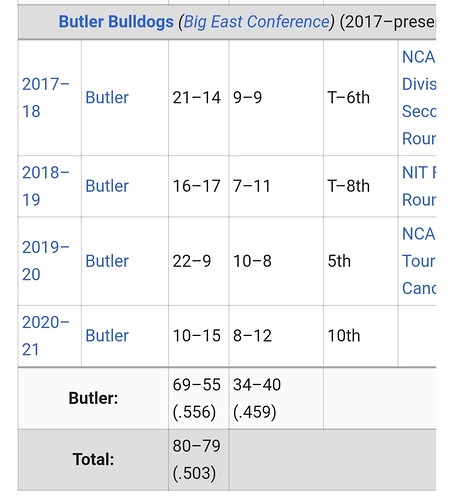 For resume purposes, beat Butler, beat Wisconsin and then play Oregon tough.
A&M, Notre Dame, Butler, and Saint Mary's have not been great in recent years. Hopefully avoid losses to them
I heard all these teams are going to join the SEC b4 this tournament starts.
not "great" last year at 10-15, but note lack of non conference and playing in the big east, where everyone is competent, the record exaggerates how bad they were …were #120 on kenpom
had noteable wins- vill, Creighton …and Some head scratching losses - SIU
every single notable player for them returns… including 4 who were seniors (will have 5 total super seniors)

style of play- they are defense first, not great on offense… but defense wasn't great, were torched by a few teams … offense wasnt good last year
they dont have a star player, they score by committee, last year had 6 different players roughly with the same scoring stats around 10pts per
additions- they added a 15 and 7 super senior transfer from eastern michigan, and 3 3star freshman …
they will likely be projected bottom 4 in the big east, but there is a strong belief within the butler community that they will be really good ,and that is why all the seniors decided to come back…will be really old , 7 seniors or super seniors
I don't…that means UH lost to Butler!

Oh yeah, Wisconsin is a layup. Yes, big10 fakers but if you think we just cruise past Butler and Wisconsin then you don't know much about college basketball.
Got nose bleed in there stadium a few months back. Next to back row is a long way from the floor. Reminded me of watching the Game of the Century back in the day . . . . .
I bet Texas A&M-Galveston has a gym. And it's on an island. Let's go.
I almost feel like it's a guarantee that this will not be played in Hawaii.
I would agree w this statement. Don't see it happening unfortunately. #LasVegas