http://www.uhcougars.com/sports/c-track/spec-rel/050118aaa.html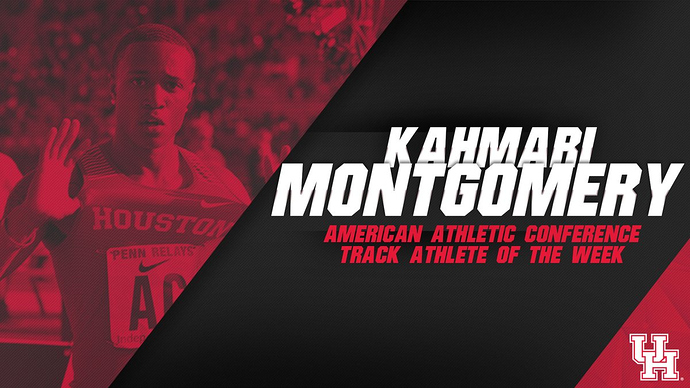 Running at the 124th Penn Relays, Montgomery carried the anchor leg of Houston's 4x400-meter relay squad that set the school record in the meet's final event. The squad of Amere Lattin, Mario Burke, Cameron Burrell and Montgomery completed four laps around the track in 3:01. 82 to post the second-fastest time in the NCAA this season.
Where Montgomery stood out was his anchor-leg split, where he raced around the track in 43.38 to bring home the championship for Houston. His split ranks 11th all-time in track & field history in the 4x400-meter relay.
Following the meet, Montgomery was named Penn Relays Athlete of the Meet for Relay Events for his efforts.
The award for Montgomery is his second consecutive after being named track athlete of the week following his record-breaking performance in the 400-meter dash at the Mt. SAC Relays.
Monie had an eventful weekend of throws for the Cougars, which included a win in the women's discus at the LSU Invitational. Monie threw the disc 168-2 (51.26m) on her second throw of the competition to seal the victory.
Monie would return later in the afternoon to pick up a big personal best in the women's shot put. The junior used her fourth throw of the competition to mark 52-11.5 (16.14m) making her just the second woman in school history to pass the 52-feet mark and moving her to No. 32 on the NCAA list this season.
The award for Monie is the first of her career.
With two awards this week, Houston has now claimed 16 American Athlete of the Week honors this season. Senior Elijah Hall has won the award five times, while Brian Barraza, Amere Lattin, Naomi Taylor and Brianne Bethel have claimed honors on the track, and Samiyah Samuels, Tonye'cia Burks and Taylor Scaife have all won field honors