http://www.uhcougars.com/sports/c-track/spec-rel/042418aaa.html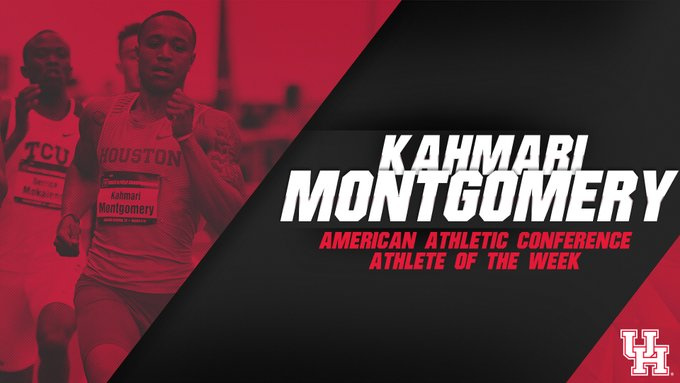 Junior sprinter Kahmari Montgomery has been named the American Athletic Conference Track Athlete of the Week, for his performance at the Mt. SAC Relays, the league announced Tuesday.
Montgomery set the program record in the 400-meter dash, when he completed the one-lap race in 44.91 to finish third at the relays. The mark for Montgomery tops Chris Jones' previous record of 44.92 set in 1997.
Montgomery's time moves him to No. 4 in the NCAA this season and places him at eighth in the world according to TFRRS and IAAF lists, respectively. The record for Montgomery gives him two at Houston after also breaking the indoor 400-meter dash record earlier this season.
The award for Montgomery is the first of his career with the Cougars and is Houston's 14th overall this year. Senior Elijah Hall has won the award five times, while Brian Barraza, Amere Lattin, Naomi Taylor and Brianne Bethel have claimed track honors, and Samiyah Samuels, Tonye'cia Burks and Taylor Scaife have won field honors.