Maybe not expected, but I don't recall seeing him much on the field or hearing his name until this year with all the injuries we had on Defense.
Plus, he's going out as a Grad Xfer, so it seems he fulfilled all 4yrs here and got his UH Degree.
Wish him luck.
Nunnery was arguably our 2nd/3rd best linebacker and was penciled in to start next year.
Has 2 yrs left eligibility. Tough loss. He played a ton.
I saw him on special teams mainly. Mutin and Morris were our two best LBs. I don't think this hurts that much, we only play two linebackers and the staff has been high on the young guys.
I wish Manny the best wherever he ends up.
Cougardue, just a gen question. Its tough to avg 4+ tackles/ gm if you pretty much only play ST . Wouldn't you agree.
Side note… Y'all are going down @Jesse22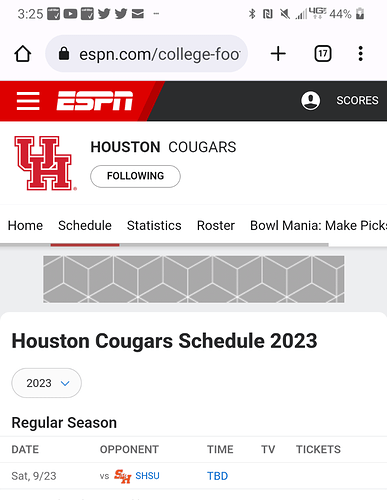 He was 5th in tackles on the team he definitely played a lot. The staff did add McCutchin, Pearson & Ish Harris though so there are some guys who can play and it can be mitigated .
I see he had 28 solo tackles for the year. This was a year where i only rewatched one game. What i remember is he sat out the first game with injuries and then in the second game he ran into the kicker taking Dell's punt return for TD back. I see Manny is ahead of Morris on tackles for the year but i thought Morris looked like the better player. I forget the name of the young guy they are high on. Hate to see players leave but it is expected. I think the LB room is fine
I thought Nunnery was definitely going to start next season…
Not sure on how it was split. Just going by stats n info Sam Khan put out today. I rathered he'd stayed. But oh well.
He's prob going to TCU!

I kidd I kidd!
Between Cheeks, Morris, Willis, Garner, Harris, Payne, McCutchin, and Pearson. We should be fine. A lot of guys.
Our transfers are ending up at better schools this year but still below us
Haha. Give me 22 pts n your on. I win you give that nice KS Bobblehead you received in mail.
You win you get a big ole congrats from me .


I thk we can agree this is the first one I remember that may be a decent lost on Depth chart. The others not sure how much they would have saw the Field in 2023.
Impressive that he took care of school and graduated in three years.
Sorry to see Manny go. But good luck to him wherever he ends up.
Is that Mo Cheeks for 76ers or less Cheeks.
Edit: actually he really stepped up late in season. I trust you Joprior.
You're probably thinking of Treylin Payne. He was a true freshman that the coaches are really high on. Holgorsen also said he thought Malik Robinson (missed the season with an injury) would probably return. He's very possibly your weak side LB starter regardless of whether Nunnery transferred or not.