Post Game Analysis: Oklahoma
By: Jimmy Schofield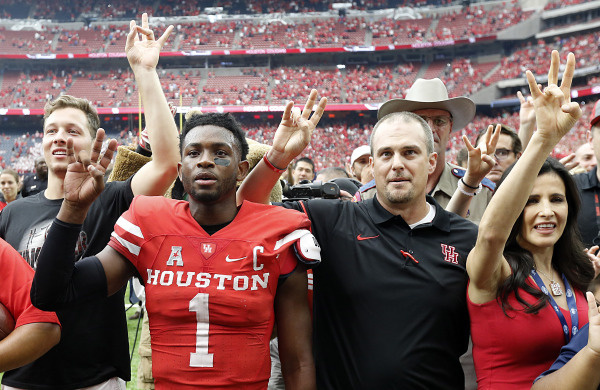 Photo by Thomas B. Shea - USA Today
In a thrilling, hard hitting physical contest, YOUR Houston Cougars defeated the Oklahoma Sooners 33-23 before 71,016 rabid fans at NRG Stadium Saturday afternoon.
Let's take a look at the offense, defense and special teams:
Offense
The Coogs were unable to run on the interior for the most part against a big and physical Oklahoma front seven. So offensive coordinator Major Applewhite decided to have his unit run around them instead. Duke Catalon rushed for 88 yards on 22 carries, with many of them coming off the edge as the Sooners had to account for quarterback Greg Ward Jr., who was held to just ONE yard rushing on 18 carries. Though Ward was sacked just twice, he was tackled-for-loss numerous times as he couldn't find any lanes inside via the zone read keeper. The Sooners back seven kept him in check on the perimeter as well with the QB sweep being null-and-void.
With the middle clogged, Applewhite used the fly sweep a few times with true freshman D'Eriq King producing 28 yards on three touches from his slot receiver position. Technically they count as receptions as Ward "push-passes" the ball to the receiver in motion because a drop counts as an incompletion and not a fumble.
With the run game held in check for the most part (89 yards on 40 carries), the passing game was on point as Ward completed 23-of-40 for 321 yards with two touchdowns. Wide receiver Steven Dunbar was Ward's main beneficiary as he caught seven passes for 125 yards as he was matched up one-on-one all day against a smaller Sooners cornerback. With Oklahoma playing in man coverage with a single high safety for most of the game, Applewhite had Ward dial up the deep passing game early and often as the dark horse Heisman candidate hit Dunbar on a 33-yard post on their second possession and added a 44-yarder to Isiah Johnson (2 catches, 60 yards) on the next possession, both setting up field goals.
Chance Allen caught only one pass for five yards as he was covered by the Sooners best corner for most of the game. Catalon was also effective in the passing game as he caught four passes for 29 yards, with 15 coming on a wheel route for a TD. Linell Bonner had 63 yards on just four receptions as the starting slot receiver, but dropped at least three more. Tight end Tyler McCloskey caught only two balls for 11 yards but they were both key as they both came on the final scoring drive; a nine yarder down the seam on third-and-8 and a two yarder for a TD on a beautiful play fake by Ward.
Speaking of red zone efficiency, both head Coach Tom Herman and Applewhite want to see improvement in their next game as the offense crossed the goal line on only two of six trips inside the 20. One aspect they had to be happy with however was third down efficiency, as the offense converted on 9-of-17 opportunities. Ward's elusiveness in getting out of the pocket in the passing game helped the offense move the sticks as he connected on 10-of-11 passes at one point for 154 yards on third down situations.
In all, the offensive line of Josh Jones, Mason Denley, Will Noble, Mac Long and Na'Ty Rodgers played an overall good game as the Coogs rolled up 410 yards of total offense on 80 plays for an average of 5.5 yards-per-play. They also kept the ball for over 35-minutes of possession time.
Defense
Through three of their first four possessions, it was looking like it might be a long day for the "Third Ward Defense" as the Sooners rolled up 221 yards on 17 plays while scoring TD's on long plays; a 32 yard rumble by running back Joe Mixon and a 64 yard catch and run by tight end Mark Andrews. Defensive coordinator **Todd Orlando'**s linebackers seemed to be missing their run fits early on as Mixon and Samaje Perine gashed the D for 54 yards on just four carries on that first possession.
After that however, the Sooners run game was shut down as they had only 16 yards for the rest of the game on 22 carries as the linebackers and secondary started coming down hill in their assigned gaps. The tone was set early with a bone chilling hit on Perine by safety Garrett Davis that knocked the 230 pound plus bruiser out of the game for a few series in the first half with shoulder issues. Perine rushed for only 31 yards on 6 carries with Mixon adding 40 on 6 of his own. Sooners QB Baker Mayfield added 24 yards on 8 carries but was sacked FIVE times for 25 yards in losses for a minus-1 yard total.
Defensive tackle Ed Oliver was all over the field, playing the nose, running down any Sooner with many coming across the field and from behind. The true freshman sensation had 7 tackles, including 2 for loss and 2 sacks. The defensive line rotation of Oliver, Jerard Carter, Cameron Malveaux, Nick Thurman and B.J. Singleton dominated in the trenches with Malveaux recovering a fumble while Singleton added two QB pressures.
The linebacking core was led once again by Steven Taylor, who had 2 sacks and 2 tackles-for-loss amongst his five total as Orlando lined him up all over the field so the Sooners O-line couldn't key in on him. Fellow inside linebacker Mathew Adams added nine tackles of his own and forced a fumble. Outside linebacker Tyus Bowser had only four tackles, but added a sack and a forced fumble as well.
As the defense played in the nickel most of the day against a pass first Air Raid scheme, they played pretty well overall considering Mayfield connected on his first nine passes and finished the day 24-of-33 for 323 yards and two TDs. He was hit so often via the blitz though that he seemed gun shy as the game progressed as he sailed quite a few of his passes late. While safeties Davis and Khalil Williams had six tackles each, the leading tackler on the day was Brandon Wilson, who had 10 as the senior leader was all over the field.
Orlando had his corners playing off the Sooners receivers early on, while playing Davis and Williams back in two deep zone looks, which gave Mayfield easy quick passes to his receivers early on. As the pressure got ramped up those short passes were taken away however. Jeremy Winchester had five tackles with fellow corner Howard Wilson adding two, while also recovering a key fumble late in the game. True freshman Collin Wilder played mainly on special teams, adding a tackle.
Special Teams
Not many head coaches put as much an emphasis on special teams as Herman does, and Saturday it paid off as Brandon Wilson made the play of the game with a 109 yard return (100 yards officially) off of a missed OU 53-yard field goal attempt that he caught at the back of the end zone and ran back untouched, hurling one of his team mates at the UH 30 as his only obstacle on his way to the score.
Wilson's first two kick returns were head scratchers as he hesitated in the end zone before bringing both kicks out, only to return them to the 12 and 6 yard line respectively. But he's so athletic that special teams coordinator Jason Washington has to give him leeway in bringing them out as his athletic ability and speed usually cannot be accounted for by opposing return coverage units. Think the Louisville 100 yard return last year in which Herman said was a bad decision to bring out initially. Dunbar was the punt returner but didn't have any yards as he fair caught two punts.
Ty Cummings did his part, connected on four field goals, after attempting only eight all of last season. Punter, or 'Puntah,' Dane Roy averaged 44 yards on 4 punts with a high of 50. The coverage units did a nice job as well, holding OU to 64 yards on 3 kick returns and 10 on 1 punt return.
Stay logged into Coogfans.com as we take a look at next week's opponent, Lamar, in a pregame analysis article Tuesday morning.