It was me!!! It was me!!!
And I 100% own it!!!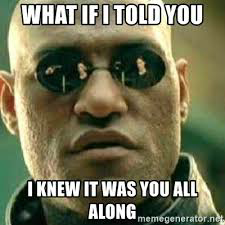 in todays border news chinese illegals caught has increased 920% since last year. thats 920% of those caught, wo knows how many got thru w/out being caught.
and i am sure they were just trying to escape china but the usa was best to go to, even though austrilia and japan were much closer and i'm sure they mean no harm. we all know china has no history of using chinese for spying and stealing within the usa.
if those of you in houston are getting concerned, i recommend detroit, toledo and louisville. i considered all before settling on detroit; i can let you know nice areas in each.

I'm hearing they're all settling in the Grand Rapids, Lansing, Detroit, Pontiac areas. They will help you!!

Few may end up in Toledo, OH
sorry, no.
i'd know if illegals were coming to michigan in numbers. its still largely white and black. mexican food around here is terrible, but women dont have to be worry about being raped from mexican gangs; so i can live with that; houston not going to be able to say that much longer.
Why do you rarely provide links to the news you recap? All I can find is articles from a month ago.
There's nice areas in Detroit?
Geez, you're just a flat out racist in addition to being a traitor.
For the 100th time, we aren't.
He wont post them because when he has they are from extremist sites and he knows it.
"Women don't have to worried about being raped by Mexican gangs"
Go back in whatever rock you poked your head out of……we all know white men have never raped, murdered or molested anyone….
You are an absolute joke……don't get much more racists than yourself….disgusting.
Yeah all his posts can basically be summed up with
So what and what does this have to do with our border?
It doesn't…he is just spamming now.
Yes…Welcome

. Kick off your shoes and sit a spell, ya'll comeback now, you hear?
I love the way the "MS 13" guy is the one in the middle predominately displayed….some things never change.
Big surprise there. The US is Mexico's problem for source of guns. Sad.