We should just merge all sports forums into one.
Ah, the Flashnet days.


If you don't know, we can't be friends.




Prefer OTing any other sports tbh, otherwise the Coog fans that brag about being at every Football and Basketball game when the temperature is low enough to cyrofreeze you like Walt Disney or the Fertitta Center is filled with asbestos pooping rats won't know about ya know, some of the fun events.
I know what you are getting at. But if everything is posted in footbal forum as OT then it leaves no incentive to visit the other forums on here. There is a volleyball post in the satellite section. What's going to happen when football season ends? Are we going to post football topics in basketball forums?
Doesn't bother me. The ladies have been kicking butt this year.
I don't understand the purpose of having several sports forums that get very few threads on their own. It is not like the forums are so crowded that you can't have baseball on the same forum as football, the seasons don't even overlap. Not to mention the additional views it could bring to the little know sports from the casual fan.
I won't go to another forum just to read about volleyball, but if it is in one forum, yes, I will check it out. Just tag the title with the sport so those allergic to broadening their sports horizons don't accidentally click on it. Several other schools just do one forum successfully.
Yep. Would rather see a tag of FOOTBALL or other sports in one forum, keeping FB and BBK separate. Men's Women's for basketball actually.
Will there be sub sandwiches provided?
Is it all GA or can you get reserved seats? My daughter has started playing VB and I am checking schedules for Sunday. Thanks for the info.
Was all ga the times I went. If like they did before, they will sign the volleyball poster after the game for your daughter
Always GA! You sit in the club section and when it fills up, anywhere else
God bless the man who designed the Women's Volleyball shorts (and it must have been a man, or one of the "ladies" from the talk show 'The View'). It IMHO, the greatest development in athletic attire ever made.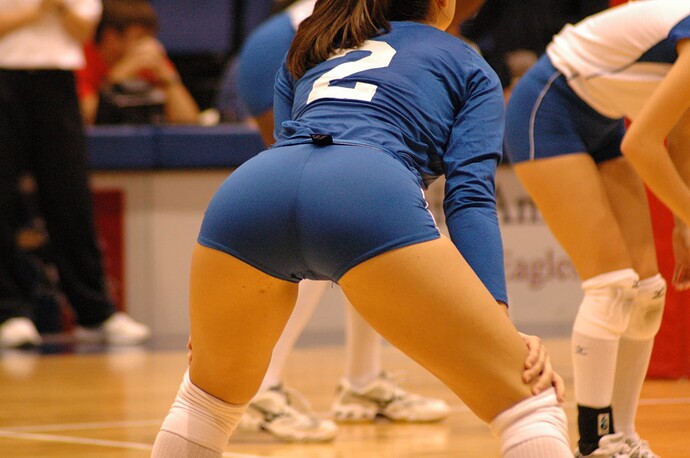 Two dollar tickets tomorrow, come on out for pink out game
Then there are sand volleyball uniforms a whole other level lol