2016 Game 1 Preview: Oklahoma O versus Houston D
By: Jimmy Schofield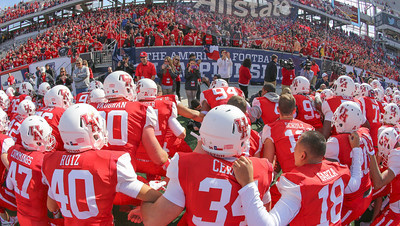 Photo Credit: Stephen Pinchback
In potentially the biggest opening game in program history, your Houston Cougars host the Oklahoma Sooners at NRG Stadium this Saturday September 3. Game time is set for 11AM (CST) and will be televised on ABC.
Ranked third in the recently released AP poll, Oklahoma is trying to return to the college football playoff under Bob Stoops (179-46). In his 18 years as head coach, Stoops has guided the Sooners to 17 straight bowl games and won the 2000 BCS National Championship.
The Coogs meanwhile, under second year head man Tom Herman, are ranked 15th and are looking to recapture last year's magical season in which they went 13-1 and finished the season ranked EIGHTH in the final AP poll.
With that, we take a look at Saturday's matchup in regards to Oklahoma's offense versus Houston's defense.
The Sooners averaged 43.5 points-per-game last season, ranking them third in the entire nation, under offensive coordinator Lincoln Riley's 'Air Raid' scheme. But it's not your Grandma's Air Raid, as the Sooners averaged 222.1 yards-per-game on the ground (22nd) to 308.2 through the air (17th). Their 530.2 yards total offense was seventh best nationally.
They'll be facing a Cougars defense under the leadership of defensive coordinator Todd Orlando, who was a perfect hire for Herman as Orlando's aggressive scheming via the blitz was perfect for the head coaches fiery personality in year one. All Orlando's defense did last season was hold opponents to 20.7 points-per-game (20th nationally) while forcing a nation's best 35 turnovers.
It all starts up front in Orlando's 3-4 scheme. Stopping the run is a key emphasis for Orlando, and the defense did just that last season, holding opponents to just 108.8 rushing yards per game, ranking them EIGHTH nationally by seasons end, and the lowest for a Cougars defense since 1999, per Phil Steele. The "Third Ward Defense" didn't fare as well through the air, allowing opponents to pass for 27.4 yards ranking them 116th. Their 383.6 yards of total offense allowed was 53rd nationally overall.
This game will be won in the trenches as Riley will want to use his big bruising RB's, Samaje Perine (5-foot-10, 235 pounds, Jr.) and Joe Mixon (6-1, 226, RSo.) behind an offensive line (that typically averages well over 300 pounds) to wear out a smaller UH front-7 which relies more on speed than strength.
Out of their first five games last season, the Sooners were held to below 110 yards on the ground in three of them. After a 24-17 loss against Texas at the state fair in which they rushed for only 67 yards, Stoops had Riley focus more on the rushing attack. The result? The Sooners averaged 270.8 yards over the final eight games with the only loss coming in their playoff matchup against Clemson in which they only rushed for 57 yards. Of course they trailed by double digits most of the second half so they were forced to pass more. Minus that game against the Tigers, the average would have been nearly 300 per game. We're not exactly talking "three yards and a cloud of dust," but the Sooners will want to emphasize the run game early and how they perform up front will be key.
Oklahoma has to replace three starters along its line; all along the interior. Per OU's recently released depth chart, Cody Ford (6-foot-3 inches, 320 pounds, RFr.) will see his first ever game action at left guard with Alex Dalton (6-foot-3, 300, RSo.) at right guard. Dalton played in seven games in reserve last season. Jonathan Alvarez (6-3, 308, Sr.) will be the new starting center as he's a natural fit for the position per Stoops despite starting just one game at the key spot along the line, while starting nine others at LG. The strength of their line is at tackle with two returning tackles; Orlando Brown Jr. (6-8, 340, RSo.) and Dru Samia (6-4, 305, So.). The mammoth Brown started all 13 games at left tackle last season in his first year with Samia starting nine games at right tackle as a true freshman.
This inexperienced Sooners O-line will be facing an experienced Houston defensive front featuring Cameron Malveaux (At 6-6, 270, Sr.), B.J. Singleton (6-4, 314, RSr.), Nick Thurman (6-4, 290, Jr.), Zach Vaughn (6-4, 270, RSo), Jerard Carter (6-3, 297, RSo) and Ed Oliver (6-2, 290, Fr.). They're listed in no particular order because they will all be rotated, though Singleton is listed at second string at nose behind Carter. This despite Singleton having started 25 games over the past two seasons. Thurman meanwhile, has started one game in 19 appearances over the past two seasons with five total tackles-for-loss. Singleton has been the anchor defensively for the Coogs over the past two seasons but doesn't have much to show for it stats wise, with a total of 28 solo tackles with only 8 for loss (including 4.5 sacks). As the nose, it's Singleton (or Carter's) responsibility to plug the gaps and occupy offensive linemen so his linebackers can shoot said gaps to make plays behind the line of scrimmage.
Malveaux meanwhile, was effective last season at using leverage to cause havoc behind the line as he totaled 8 TFL last season despite the scheme not being geared for its linemen to produce tackles. Thurman was a reliable reserve last year who totaled 27 tackles but has really come on strong during training camp per various media reports. Carter and Vaughn haven't seen the field much in their first few seasons but need to step up in order to provide the depth necessary in keeping the line fresh, especially against a physical Sooners front.
Then there's the rookie. The first five-star signee in the recruiting era signed by a non P5 school, Oliver should contribute right away. "Big Ed" had 229 total tackles the past three seasons playing at Houston's Westfield High. He had 84 last season and an astonishing 20 for loss to go along with 9 sacks, 2 forced fumbles and an interception and thus far hasn't disappointed in camp according to Herman, who told the Houston Chronicle at a recent practice that the third ranked defensive tackle in the nation doesn't have an off switch. For Herman to heap praise upon a true freshman is something. He's also listed as a co-starter along with Thurman.
While Perine averaged 103.8 yards-per-game and 6 yards-per-carry to go along with 16 touchdowns, the analytics site ProFootballFocus warns not to overlook Mixon, who averaged 6.7 yards-per-carry himself, "Last year as a redshirt freshman Mixon carried the ball just 114 times and gained 756 yards and scored seven touchdowns. He also added 28 catches for 358 yards and four touchdowns. Mixon was incredibly elusive, forcing 38 missed tackles on just 142 touches and averaging 3.65 yards after contact per touch. That elusive rating of 97.7 ranked 14th in the nation among running backs who had at least 100 touches last year. Mixon is young and impressive and there's no reason to think that Oklahoma won't give him even more touches and chances to shine this year." Perine needs just 1,057 yards to break the all-time Sooners rushing record.
With Perine and Mixon loving to run between the tackles, it will be up to the Cougars middle linebackers to not allow them any momentum in the run game. While over the past eight seasons a middle linebacker has led the team in tackles from Marcus McGraw, to Derrick Mathews to Elandon Roberts last season, the question is WHO will fill that production and leadership void this season?
My money's on Steven Taylor (6'1, 225, RSr.). Though he played outside linebacker last season, Orlando lined him up all over the field so opposing offensive linemen couldn't hone in on where he was blitzing from. Expect him to increase his tackle totals this season, which has been steady in each of the last three with 89, 76 and 92 total. Taylor used his blazing speed to up his production to 10 sacks last year, from three and four the previous two seasons, while adding 18.5 tackles-for-loss. Many of his TFL came on "cross dogs" where he would crisscross with Roberts in double-A gap barrel blitzes (with a safety following behind).
The other middle linebacker will be Mathew Adams (6'1, 230, Jr.), who struggled last season with injuries but made quite the impact as a true freshman two seasons ago with 40 tackles, 4.5 for loss and 2 sacks. Last season he had 49 tackles though he only started 3 games, with 2.5 TFL and 2 sacks. Herman mentioned Adams as having a great preseason when asked about any defensive players stepping up at his first weekly media press conference yesterday.
Listed at the other linebacker spot is D'Juan Hines (6'1, 225, RJr.) but expect him to split time with Emeke Egbule (6'0, 230, So.). Their strengths are speed as they're both able to flash to the ball to plug those interior gaps as just one defender won't be able to bring down Perine or Mixon. Luckily that's Orlando's unit's specialty; overall team speed.
Hines saw a lot of playing time last season in reserve, adding 13 tackles and two QB hurries as he showed solid potential as a rush specialist when Orlando went 'kamikaze' and had the entire front seven standing. Egbule meanwhile played mainly on special teams last season registering 11 tackles in 14 games while adding a sack but according to all reports looks to have the making of the Coogs next great linebacker.
The other outside, or "rush" linebacker will be Tyus Bowser (6'3, 240, Sr.), who returns for his second season as a full time starter. Bowser had 5.5 sacks last season and 13 for his career and is also athletic enough to drop back when Orlando calls for one of his many zone blitzes as he had three passes defended and an interception last season as well.
Of course another problem with the Sooners offense is that their quarterback doesn't throw many interceptions. Baker Mayfield (6-foot-1, 210, RJr.) is a sound decision maker in the pocket who is on target with his passes. During his first season starting last year after sitting out a year due to transfer rules, Mayfield threw for 3,700 yards (284.6 per game), with 36 TDs to only 7 interceptions. He also completed 68.1-percent of his passes, good for FOURTH nationally.
Not only can Mayfield hit the short intermediate pass, he was also a top 10 deep passer last year, throwing accurate passes on 51.7 of his throws greater than 20 plus yards downfield with 11 TD's to ZERO interceptions, according to PFF.
Mayfield also hurts opposing defenses with his legs as well. The Austin, Texas native rushed for 598 yards, scoring seven touchdowns and forcing 23 missed tackles. While pressure would seem the best way to rattle Mayfield, 48 of his runs came on QB scrambles, rushing for 386 yards while forcing 16 missed tackles and scoring three touchdowns. On designed runs, Mayfield rushed for 113 yards on 18 attempts off left end (stats again courtesy of PFF).
Mayfield may be on his best in the passing game when he has to improvise as that's usually when the secondary breaks down in coverage so it'll be up to Orlando's defensive front to keep the former Texas Tech Red Raider inside the tackles, forcing him to pass. This may mean not being as aggressive in the pass rush game.
In that passing game, Mayfield will be looking at receivers who will have to replace 45-percent of their production from last season. The leading returning is Dede Westbrook (6-feet, 175, RSr.) who had 46 receptions for 743 yards for an impressive 16.2 yards-per-reception. The next leading returner at the position is Jarvis Baxter (5-foot-11, 175, Sr.) who only had 20 receptions for 218 yards.
Perine and especially Mixon were very effective in the pass game as previously mentioned as well as H-back Mark Andrews. The 6-foot-5, 250 pounder is a classic matchup nightmare as he had 318 yards last season on only 19 receptions for a team leading 16.7 yards-per-reception. The redshirt sophomore is also an effective tool in the red zone as he was second on the team with seven TD catches. When Orlando goes to his zone blitz looks, it could be Bowser's job to try to contain Andrews.
Other receivers who have had nice off-season and summer camp's include AD Miller (6-foot-3, 196, So.), Dahu Green (6-foot-4, 204, So.), Jeffrey Mead (6-foot-5, 200, So.), Jordan Smallwood (6-foot-2, 220, RJr.) and Nick Basquine (5-foot-11, 190, RSo.). Of the group, only Miller and Smallwood have receptions, with Miller catching two balls last year and Smallwood three in 2014. But what they lack in experience they more than make up for in size, speed and athletic ability.
And if that talent and depth weren't enough, Orlando's secondary gets to deal with Geno Lewis (6-foot-1, 205, RSr.), a graduate senior transfer from Penn State who has 18 starts over the previous three seasons with nearly 1,200 total yards on 90 receptions and 8 TDs. In 2014 he led the Nittany Lions with 55 catches for 751 yards.
The Cougars secondary has much the same problem (or opportunity depending on perspective) as the Sooners wide receiver core; losing experience but perhaps gaining size and play making ability. Losing four year starting safeties in Trevon Stewart and Adrian McDonald will be tough no doubt. One just doesn't replace 135 career starts, almost 30-percent of their total solo tackles along with a combined 14 interceptions, 43 passes defended and 7 fumble recoveries when you include the stats of starting corner William Jackson and nickel back Lee Hightower.
The only returning starter to the secondary is cornerback Brandon Wilson (5-foot-11, 200, Sr.), who will spend the majority of his time at the nickel spot, playing closer to the line of scrimmage. This fits the physical Wilson as he's an excellent tackler in space as he led all Coogs cornerbacks with 58 total tackles while adding 9 passes defended, forcing and recovering a fumble while intercepting a pass.
The other starter will be either Jeremy Winchester (6'0, 190, RSo.) or Howard Wilson (6'1, 185, Jr.), though for all intents and purposes will both be playing each corner spot. Winchester was inserted into the starting lineup against Memphis late in the season last year and played decently for a young player thrown into the mix on short notice as he registered six tackles against the Tigers (he had 17 on the season). Seeing his first action on the field last year, Winchester also added three passes defended for the season.
Wilson meanwhile was limited last season, playing in only three games (though he did have an interception and three passes defended). It was the prior season, in which he really impressed as a true freshman, starting three games and appearing in all 13 total. The Desoto product produced 48 total tackles in 2014, with three passes defended and three interceptions proving he can also become a play maker in the secondary.
The safeties will be Khalil Williams (6'0, 200, Jr.) and Garrett Davis (6'1, 200, RSo.). Williams started three games last season and had 18 total tackles with 5 passes defended and an interception returned for 49 yards. His true freshman season saw his redshirt removed halfway through the season, adding 9 tackles in 7 games. Davis meanwhile registered seven tackles with a pass defended in 13 games, mainly on special teams.
JC transfer Terrell Williams (6'3, 210, Jr.) could also make an immediate impact as safeties coach Craig Naivar likes his size and intelligence as he should be a force in the box as a solid run defender.
Another to keep an eye listed in the two-deep at safety is true freshman Collin Wilder, a four year starter at local powerhouse Katy High. Wilder reminds me a lot of Stewart in that he oozes leadership, and has a knack for making plays on the ball, ending his career with 413 tackles and 64 straight starts. Whatever combination Orlando decides to use they must improve on the 274 passing yards last year's team allowed (ranking them 116th nationally) as they were only able to overcome the bad pass coverage because of the ability to force turnovers at a record rate.
With football being the consummate team game, Orlando may pressure less in hopes of his front four getting to the QB quicker so the back seven won't have to stay in coverage as long. Of course Riley could, and probably will, counter this by using the quick passing game, a staple in the Air Raid something Mayfield is very good at with his accurate quick release. It also simplifies the game for the QB as he doesn't have to make as many reads in coverage. It's just snap, catch and release basically.
If Orlando decides to blitz less against an accurate throwing QB, will he have his secondary playing more man coverage? This could be problematic against a bigger more physical Sooners wide receiving core. But then again, being physical is what the University of Houston football culture is all about. Herman touched on the subject at the presser, "We are much more explosive, much more disruptive at that position (defensive line) now than we ever have been. I expect it to show up a little more in the box, yes."
And finally, when speaking of defense, field position is critical. Last season Cougars opponents started each possession on their own 25 yard line on average. This is where special teams play a key role, especially regarding punt and kickoff coverage. Last season, the Cougars special teams' unit allowed only 2.19 yards per punt return, ranking them fourth nationally. Of course that was because punter Logan Piper was very effective at pinning opponents inside their own 20-yard line, accomplishing that feat 23 times while booming another ten 50 or more yards.
This season the punter will be Dane Roy. A 27 year old freshman, Roy, who's listed at 6-foot-7 inches and weighs 230 pounds, is a former ice cream salesman who hails from Australia. He was offered a scholarship after winning a longest kick competition (79 yards) at the Australian Football League's 'Grand Final,' or their Super Bowl.
In terms of kickoff coverage, Ty Cummings (6-feet, 185, Sr.) returns at kicker as the unit allowed 20.4 yards-per-return on kickoffs, ranking them 46th nationally. The key, under coordinator Jason Washington, will be continuing to get his units to play with discipline as in staying in their lanes as the Sooners have inexperienced but dangerously athletic kick and punt return men in Joe Mixon and Jarvis Baxter.
Tomorrow we break down the Sooners defense versus the Cougars offense.