2016 Game 1 Preview: Oklahoma defense versus Houston offense
By: Jimmy Schofield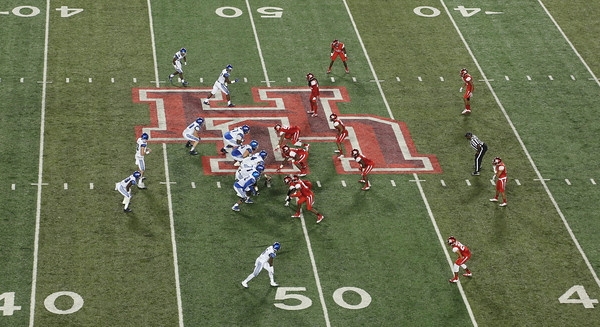 Photo Credit: Stephen Pinchback
In potentially the biggest opening game in program history, your Houston Cougars host the Oklahoma Sooners at NRG Stadium this Saturday September 3. Game time is set for 11AM (CST) and will be televised on ABC.
Ranked third in the recently released AP poll, Oklahoma is trying to return to the college football playoff under 19th year head coach Bob Stoops (179-46). The Coogs meanwhile are ranked 15th and are looking to recapture last year's magical season under second year head man Tom Herman (13-1).
Today we take a look at the keys to the game in regards to Oklahoma's defense versus Houston's offense.
Under fifth year defensive coordinator Mike Stoops, OU's defense allowed an average of 22 points and 364.5 total yards of offense per game last season. Both led the Big 12 and were 28th and 39th in the nation respectively.
They'll be facing a fast and physical Cougars offense under the tutelage of offensive coordinator Major Applewhite. The second year coordinator helped the offense improve last season from the 2014 season in just about every major statistical category from scoring; 29.8 to 40.4 (57th to 10th), total offense; 414.1 to 484.1 (55th to 20th) and perhaps most importantly, in rushing offense; from 42nd in 2014 (183.8) to 13th. The 235.8 yards-per-game rushing were the most for any Cougars ball club since the 1983 season, per Phil Steele.
The key to the success of the Cougars offense was forcing the opposition to defend every inch of the field both horizontally and vertically, via various types of screen passes, along with the deep passing game. The deep posts were mainly successful via the play-action pass because of a philosophy committed to establishing a power running game.
Oklahoma returns seven players who started at least one game last season in their multiple 3-4 scheme but, have to replace five of their top eight at linebacker.
Any linebacking core is only as good as its down linemen as they occupy offensive linemen so the "big uglies" up front can't progress to the second level and third levels cleanly. According to OU's recently released depth chart, the men plugging the middle will be a combination of Jordan Wade (6-foot-3, 310 pounds, RSr.) and Matt Romar (6-feet, 305, RJr.) at the nose. The two had almost identical stats with 23 tackles last season, including two sacks, a tackle-for-loss and a fumble recovery (for Wade in reserve). Romar started at a defensive tackle spot every game as the Sooners usually played four down linemen.
The two end spots will be Charles Walker (6-foot-2, 305, RJr.) and Matt Dimon (6-foot-2, 275, Sr.) with Austin Roberts (6-foot-6, 275, Sr.) and D.J. Ward (6-foot-2, 275, RJr.) playing in reserve. Stoops has marveled at Walker's athleticism and how he should have a break out year as a full time starter after contributing 10 TFL and 6 sacks last season in reserve.
They need to protect a linebacker unit that will be led by Jordan Evans (6-foot-2, 235, Sr.) from one inside spot. Evans was the Sooners second leading tackler last season with 83 (49 solo), including five for loss and a sack. Stoops calls him a super athlete with great understanding of their defense and is superb in coverage as he added four passes defended, a forced and recovered fumble. Tay Evans (6-foot-2, 245, RSo.) is listed alongside him as Tay will receive increased playing time after adding only 8 total tackles in 10 games last season.
The two outside linebackers will be Ogbonnia Okoronkwo (6-foot-2, 245, RJr.) at the 'Jack,' or rush specialist, and Will Johnson (6-foot, 192, RJr.) at the "Sam," which could also be classified as a nickel back. Stoops has confirmed that Johnson will be playing closer to the line of scrimmage this season as he was used mainly in coverage at the nickel last year. This could give Ward problems in deciphering whether or not a blitz is coming.
Stoops complimented Johnson by calling him a "scrappy" player who has great football instincts and is a great tackler in space. Last season he produced only 14 total tackles (in 11 games) but three of those were for loss. Another true freshman that's impressed in camp has been Caleb Kelly (6-foot-3, 221) along with Kapri Doucet (6-foot-2, 225, Jr.), who's listed as a co-starter along with Johnson. With Kelly and Doucet in the game Stoops defense will be a more traditional 3-4, while when Johnson is in the game they'll be a modified 4-2-5 with the 'Jack' putting his hand on the ground to rush the quarterback.
Okoronkwo has 17 total tackles and only four sacks in his first two seasons playing but has been plagued by injuries. Stoops is expecting a break out year as he needs to replace Eric Striker as their rush specialist. Behind him is youngster Ricky DeBerry (6-foot-2, 238, RFr.) as he's listed as a co-starter at the 'Jack.' One to look out for at outside linebacker as well is Mark Jackson, a 6-foot-4, 234 pound true freshman who was rated as the number-one outside linebacker in the nation and is said to have had a big spring and summer practice showings.
This group of quick and physical linebackers will be responsible in trying to contain Houston's run game and quarterback Greg Ward Jr. (5-foot-11, 185, Sr.), who returns for his senior season with an impressive 19-2 record over the past two years. Ward was 6-2 in 2014 after taking over full time in the fifth game of the season and 13-0 last year, missing the teams' only loss at UConn.
Ward passed for 2,828 yards last season with 17 TDs to only 6 picks. The 2015 Earl Campbell Award Winner and Chick-fil-A Peach Bowl Offensive MVP also rushed for 1,108 yards with 21 TDs (fifth nationally), with many coming via my favorite play; the QB sweep in the red zone. He was the only QB besides Clemson's Deshaun Watson to run and pass for over 15 TD's each.
"He's bigger, he's going to come into camp about 190 pounds of real solid weight," Herman said recently about the development of Ward. "He looks great, he's confident. He's improved his body and his strength and he's just a much more vocal leader than he has been, and that's from the confidence he's gained in this offense and kind of being in charge of this team for two years now."
Herman also on the third year starter, "If you start a quarterback in our offense, you're probably going to get mentioned in the Heisman Trophy race. If we have a decent year, they don't give Heisman's to guys on 6-6 teams, so obviously the team has to play well around him, but he's going to put up numbers worthy to be in that conversation."
'Pro Football Focus' on the dark horse Heisman candidate's scrambling ability, "Ward was the most lethal running threat from the quarterback position in 2015. No QB compiled a higher PFF rushing grade or more total rushing yards. 613 of his 1,201 yards came after contact, a sign of his ability to avoid tackles (he broke 40 in 2015) with his combination of speed, elusiveness and power. He was an incredibly valuable rushing weapon for the Cougars in the red zone, frequently punching it in at close range on designed runs. All told, 19 of his 21 rushing touchdowns (by far the most among QBs) came on designed running plays, but he was still a very effective scrambler as well, frequently extending plays and averaging more than 10 yards per rush on scrambles."
Protecting Ward will be an offensive line that may be young on paper, but they're experienced in game action. While the line loses 83 career starts, it returns 26 career starts from five linemen who have started at least one game in their career. In losing their bookend tackles, protecting Ward's blindside will be Josh Jones (6-foot-5, 280, RSo.) at left tackle. Jones was the first huge recruit to sign for the 2015 recruiting class, in essence beginning the #HTownTakeover, after de-committing from Oklahoma State. The Richmond George Bush Bronco redshirted last season but has really been impressive in spring and summer camps.
The right side has been Na'Ty Rodgers (6-foot-5, 292, Jr.) spot to lose since he arrived on campus this spring from Iowa Western Community College. He's been described as being very athletic for his size, which is needed in their zone based blocking scheme, and "long" which is important in keeping opposing defensive linemen at bay on the first level while being able to reach linebackers and safeties on the second level.
The guard spots should be manned by Mason Denley (6-foot-4, 305, RSo.) at right and Mac Long (6-foot-4, 300, Sr.), who's been the surprise of camp, at left guard. Long, who hasn't started a game, beat out Kameron Eloph (6-foot-3, 294, So.), who was switched from the defensive line early last season due to injuries, finishing the season starting three games at guard (two at right guard and one at left) while playing in nine total. Denley started six games, all at left guard including three of the final four. Denley has the toughness for the position but just needs to polish his technique.
The starting center will be Will Noble (6'4, 290, So.), who returns after starting the final seven games last season due career threatening injuries to Colton Freeman, who was unfortunately forced into retirement from the sport. Noble is now having issues of his own with concussions but returned to the practice field on Monday. The true freshman was named an ESPN, FWAA and USA Today Freshman All American last season and has four year starter written all over him as he has a huge upside.
Alex Fontana (6'3, 310) signed in April after starting at center last season for New Mexico Military Institute where he earned Honorable Mention All-Western States football league honors last season. He'll have two years of eligibility remaining and will provide depth at center and guard along with redshirt freshmen Ryan Deshotel (6'4, 272), who was getting too big for tight end. Marcus Oliver (6'3, 295, Jr.), who has a few starts to his name at LT and true freshman Braylon Jones (6'3, 278) round out the 2-deep at the tackle spots, but hopefully this season the depth won't be needed as much as last year where the line started ELEVEN different combinations in 14 games under line coach Derek Warehime.
The tight end position was instrumental in helping the pass protection and run blocking, especially the outside run game and is once again led by the return of Tyler McCloskey (6'2, 245, Sr.). Those QB sweeps that Ward was so effective on were led by the senior from Houston Memorial High.
Per tight ends coach Corby Meekins, "the tight end makes our system work. He has to be a receiver and play down attached along the offensive line. He has to be versatile enough to where we don't sub when we go to out four receiver sets."
McCloskey needs to learn to set his routes up better as he only caught 14 passes last year for 157 yards and a score. Listed behind him is Romello Brooker (6'4, 241, RSo.), who made some impressive receptions during spring and summer ball as Applewhite hopes to be able to use the TE in the passing game more this season.
The Cougars offense is spurred by the power run game, and with the loss of both Kenneth Farrow and Ryan Jackson to graduation, taking their combined 954 carries for 4,905 yards and 52 TDs with them, Duke Catalon (6'0, 210, RSo.) looks to pick up where the aforementioned duo left off as he had a very impressive spring by every measure while being held out of quite a few summer practices due to neck issues. The Aldine Eisenhower product rushed for almost 3,500 yards during his high school career and according to running backs coach Kenith Pope was "hard to bring down on the scout team and has great vision and speed" after having to sit out last year after transferring from Texas.
Unfortunately, nobody has stepped up behind Catalon from a group of Mulbah Car (5'11, 194, Fr.), Kaliq Kokuma (5'11, 210, RSo.) and Kevrin Justice (5'11, 190, RFr.). Car, who's had a nice summer camp according to reports, brings a physical and violent temperament with him as well as possessing great speed, according to Pope. Car set the Austin Independent School District career rushing record with 4,833 yards.
The main objective of Applewhite's power-spread offense is to move the chains with short quick passes, then taking deep shots via the play-action passing game. With the loss of Demarcus Ayers to the Pittsburgh Steelers (and his 98 receptions last season tying him for sixth nationally for 1,222 yards), new wide receivers coach Darrell Wyatt will have his work cut out in trying to replace Ward's go-to man in the quick passing game. Luckily both outside receivers return in Chance Allen (6'3, 215, Sr.) and Steven Dunbar (6'3, 210, Jr.). Allen was both the second leading receiver in receptions and yards behind Ayers with 56 and 752 respectively. The former Oregon transfer also hauled in 6 TDs, tying Ayers for the team lead. Dunbar meanwhile was third with 31 receptions for 382 yards and three scores, a season after catching 20 balls for 286 yards as a true freshman. Both have had solid spring and summer practices by all accounts.
Replacing Ayers at the slot will be worrisome according to Herman as both players in the original 2-deep are out with injuries. Ra'Shaad Samples (5'11, 190, RJr.), sat out most of spring and summer with concussion like symptoms.
True freshman Marquez Stevenson (6'0, 175) was having a very productive summer camp until a collarbone issue was forced to keep him out for five to eight weeks. Former walk-on Linell Bonner (6'0, 202, Jr.) emerged last season as the best receiver in reserve, catching 25 passes for 317 yards and a second leading five TDs and is now slated for the slot with another true freshman, D'Eriq King (5'10, 170), listed behind him after practicing at QB for most of the summer. Isaiah Johnson (6'4, 205, RSo.) caught 6 passes for 43 yards as an outside receiver last season and really impressed during Spring ball by using his speed to amass 19.4 yards-per-reception on 15 catches (292 yards and three TDs) in the spring game.
The Sooners secondary responsible for shutting down the Cougars receiver core will be led by the experienced trio of Jordan Thomas (6-foot, 192, Jr.) at corner and Ahmad Thomas (6-foot, 215, Sr.) and Steven Parker (6-foot-1, 204, Jr.) at safety. The safety duo are "great communicators" on the back end according to Stoops. The other corner spot will be manned by Dakota Austin (5-foot-10, 170, Sr.), who may be on the smaller side but is competitive and tough according to Stoops. Thomas needs to continue to be a play maker as he takes over as the shutdown corner a year after amassing 153 yards on five interceptions included in his nine passes defended. Ahmad Thomas and Parker added 75 and 60 tackles last year respectively along with a combined 10 passes defended.
Secondary coach Kerry Cooks has uber talented P.J. Mbanasor (6-foot-1, 193, So.), Parrish Cobb (5-foot-11, 175, Fr.) and Michiah Quick (5-foot-11, 190, Jr.), who's moved over from wide receiver in reserve for the secondary.
Special teams were key in helping the Cougars offense last season, where they started drives at its own 32-yard line on average, mainly to the returns of Ayers and Brandon Wilson in the punt and kick return games where they averaged 10.4 and 26.6 yards-per-return, ranking them 30th and 20th in the nation respectively. While Wilson is back as a kick returner, a 'TBA' is listed for the starting punt return role. The Sooners led the nation last season in punt coverage as they allowed only 12 total yards on just 11 returns. Austin Siebert (5-foot-10, 214, So.) returns as the punter and place kicker after a spectacular true freshman season in which he averaged just 42 yards on 57 punts, but pinned opposing offenses inside their own 20-yard line 23 times while adding 11 more that were over 50 yards. The Sooners kick return coverage unit allowed 21.5 yards-per-return, ranking them 67th nationally.
Keys to the game
Redzone efficiency: In a game that's so evenly matched, the team that can score TDs when in the red zone usually wins. And of course both teams are evenly matched in this category as well. Last season the Cougars crossed the goal line on 49 of 67 red zone possessions. That 73-percent was good for EIGHTH nationally. The Sooners meanwhile weren't too far behind in converting on 46-of-69 chances. Their 66.7-percent had them at 26th nationally.
The difference could come in red zone defense as the Sooners were ranked 35thh as they allowed opponents to cross the goal line on only 53.4-percent of their opportunities (23-of-43) while the Coogs were 112th at 71-percent (35-of-45).
Turnover margin: These were two of the best in the nation last year as the Coogs were second overall at a plus-14 (35 forced turnovers to only 14 committed). The Sooners were pretty good themselves at plus-9 (27 forced to 18 committed), which ranked them 15th.
Which teams scores 7's instead of 3's while forcing the other team into making a game changing mistake wins. While these two teams are evenly matched in almost every category, I think the Coogs are a tad better up front defensively, which will force Mayfield into a costly mistake that could lead to a game changing play late in the game in favor of the good guys.
Final Prediction: Houston 42 Oklahoma 31