OU should beware Tom Herman, who became nation's hottest coach by keeping his cool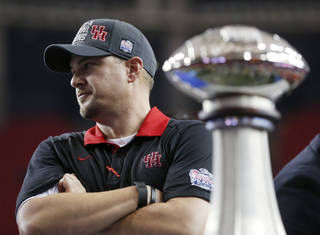 "Paul Johnson of Georgia Tech, I had a chance to pick his brain a little down at the Peach Bowl golf challenge they have for coaches. Paul has been a coach a long, long time," Herman said. "He said he had this big game, a national game, rivalry game once. Basically from the January after the previous season throughout spring ball, they were doing one extra jumping jack for this opponent or one extra pushup for this opponent, and everything was centered around that game.
"They lost, and he said it was a good month before he had his team back because they were crushed. They had spent upwards of nine months getting ready for this one game. And they lost it and they didn't know what to do.
"That's not gonna happen here."