Houston is on the west side of the stadium which is situated North-South with the low side of the stadium in the north end.
Did you get your ticket from the school? I haven't looked yet, what are the prices?
No.

I always get screwed on seat assignment. I got the family four pack direct from the Independence site.
I put in for them from the email, looks like pricing is $45 and $65
I will just call tomorrow morning and get my ticket. When I tried to purchase it showed $0 for the price and I know that's wrong.
That's what I got when I selected all the bowls I'd attend, everything was $0, it said I'd be charged when seat selections are made.
Same here. I am not sure how they're going to decide if I get the 45 or 50 pr whatever price tickets. I know how they alot the tickets based upon cp.
I purchased a gold parking pass on the Independence Bowl website. The other parking lots aren't available for an online delivery yet.
This is sort of an aside, but can someone explain why they felt the need to expand this stadium to 63k? It seems like the Independence Bowl's never drawn more than 50k, even with LSU playing in it occasionally. Why would you expand a stadium that as far as I can tell has never – not once ever – sold out?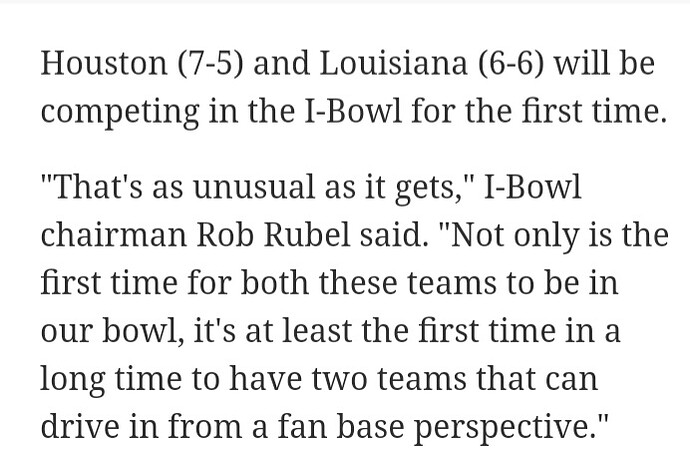 Interesting that we have never been in the bowl and neither has Louisiana Lafayette.
Both fan bases can drive. Will they?
What's Pez excited about? It's a 2pm kick in Winter