all of this proves how improtant home advantage his and how the high majors collude it with money
the pac12 on a "were the good guys" move decide to do a fair challenge with the swac … even home and away…and if pv wins, the swac wins the overall challenge
What it really shows is the trend of the pac just not being that good overall.
One of the issues in recruiting to the PAC is that those from elsewhere probably can never afford to stay there after graduation. That means a cross country move, find new friends, and fewer alumni to help in job search. That is not going to change any time soon.
With apologies to Yogi Berra: Nobody lives there anymore, it's too crowded.
But it's good that they're giving them the opportunity. We complain all the time why we never get home and home. The only thing wrong is that they don't beat them because they're not good enough to do it.
Also, they gain by recruiting in Texas or Louisiana.
So PAC12 vs SWAC ended 3-3. Not bad for HBCU teams that don't have the money and amenities of PAC12 teams.
Oregon, USC and Arizona won their games.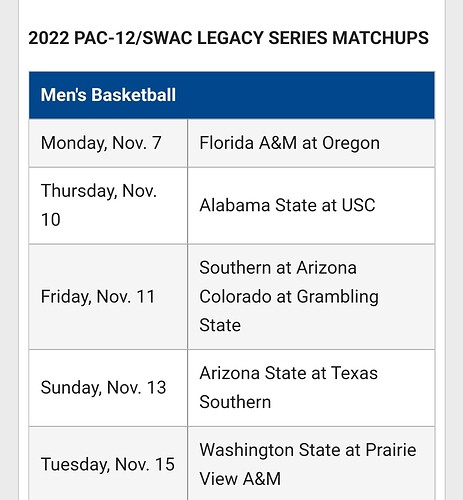 Oral Roberts crushed TSU by 18 points tonight
It was at least tied at the half.