Interesting choice and I like the Houston connections. The previous ADs tended to bring in people that were from out of state. Hopefully, we see a huge improvement in marketing.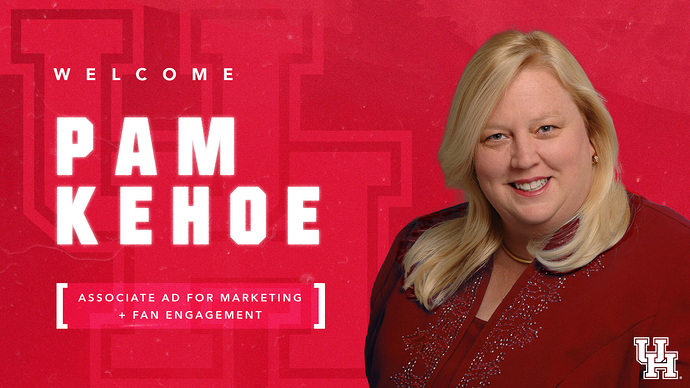 "We are excited to welcome Pam to the Houston Athletics family," Pezman said. "She has considerable experience in the Houston market and throughout the years has developed extensive contacts and relationships in the market that will help our department continue to elevate our brand and expand our reach."
Kehoe joins the Houston department after two years as director of marketing for Greensheet Media where, as a member of the organization's leadership team, she developed strategic marketing and communications activations for the multi-media company that produces 19 weekly editions in Texas and TheGreenSheet.com.
Prior to her time with Greensheet Media, Kehoe spent two years as director of consumer marketing for the Houston Chronicle where she was tasked with the development of a consumer marketing team to increase product engagement and usage while maintaining robust circulation numbers.
From 2001 to 2012, Kehoe served as CBS Radio Houston's group marketing director where she led all marketing, promotions and PR strategy development and execution for six stations in the Houston market. Kehoe managed the organization's partnership with the Houston Texans during that time while overseeing a team of 45 staff members.
Kehoe also spent one year as marketing director and brand manager for Cox Radio Houston and 14 years as director of marketing and promotions for NewsRadio 740 KTRH prior to joining CBS Radio Houston.
A board member for the American Advertising Federation Houston, Kehoe earned a bachelor of business administration in marketing from Stephen F. Austin University in 1985. She will officially start her role May 7.