https://twitter.com/joseph_duarte/status/1706333633164738849?s=46&t=QaTBQ_PFQ7gLVOFwqBKG5Q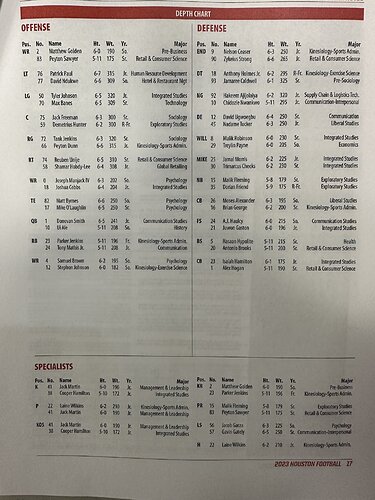 Ale officially listed as QB2 and several changes on defense.
How can we have seniors majoring in Exploratory Studies or Pre-Sociology?!
When Gervarious Owens told me he was graduating, he said "sure am glad they don't put my GPA on the diploma"
welcome to the world of the transfer portal - where there's probably a ton of classes and or credits that dont transfer with you.
I no way of actually knowing that, just the first thing that came to mind and kinda makes sense.
I dont see anybody with Pre-Sociology?
Jamaree Caldwell. Back up DT.
Sr. Pre-Sociology.
Noice!!! We need Ale to start at QB and we'll be set!!!
Did Chidoze Nwankwo reinjure his ankle or have another injury we haven't heard about ?
I think its sad that everyone is getting a degree that does not have much of a future.
Blockquote I think its sad that everyone is getting a degree that does not have much of a future.
Communications major from 92 here. I think I've done alright.
Have heard others say that about Kinesiology in the past and not true at all. There are many avenues one can take and I was able to study my passions. Absolutely loved learning Anatomy & Physiology, Biomechanics, nutrition and generally how the body works.
To say I have used what I what I learned in my personal and professional life is an understatement. At the age of 50 I can continue to build on that learning and thriving in my profession.
what the hell is that?? …and a Sr?
Not sure.
Sounds like he has fiddle farted around for several years in college without actually declaring a major. I hope he declares one and finishes soon…for his sake.
I wonder if this is how you do it until your football playing days are done. That way you can keep your grades up and be abe to play. After your done playing you then come back and take the harder classes and finish your Sociology degree.
Andrew Luck graduated from the engineering college at Stanford while maintaining his duties as the starting qb. Of course, his family wasnt hurting for money or anything but still impressive.
In fact most of the Stanford roster is majoring in engineering, economics, a few sociology or they're undeclared freshmen and sophomores.
Yeah, sort of.
He graduated with a degree in "Architectural Design," which doesn't really mean anything because Stanford does NOT have an accredited architecture program or school.
If he ever wants to actually be a registered architect, he'll have to go back to an accredited architecture school (like UH) and get either a B.Arch or M.Arch degree.
His Stanford degree won't get him there.
For a list of accredited architecture programs, see here:
Great discussion on the depth chart
Changes noted this week on offense has Byrnes starting over O'Laughlin. On Defense Holmes takes over DT, Ajijolaiya is starting at NG. Hypolite starting at BS, Hamilton and Alexander at CB.
It is interesting how the defense has been shaken up a bit. But it needed to happen because some guys were not playing to their potential. I don't know if it was due to injury or what, but there was more effort needed.
Not surprised that Byrnes is now starting at TE.
He had a really big reception in the SFSU game.
He's a huge target (6'6" and 250) with good hands.
We really need to utilize him more in the passing game.