Lots of Retail and Consumer Science majors in there lol
I don't disagree.
I guess I just expected him on there somewhere as Golden was last year.
I'm surprised that the kid from USC(Campbell) at RB isn't on here.
We finally have some real depth.
The defensive side catches my eye. Imo, tackling on the back end will be better. Jalen Emery and Fleming are the two CB. Both on shorter side but willing tacklers. Fleming can cover. Hogan is a good fit at NB. Haulcy is going to bring it. Fleming is returning punts too.
Not on the 2 deep, but I suspect he will play. He may only play in 4 games to maintain his redshirt. Their HS rankings don't matter here, it's what you show on the practice field that earns a spot on the 2 deep. I have no doubt that MHP will be really good for us, but it takes a while to adjust to P5 college football – some longer than others.
Even without Pilot on the two deep, I think that with Golden, Brown, and Manjack, plus the WVU TE, we'll have some damn good targets in the starting lineup.
Belk loves to rotate his players. I believe this year we see more of that at the CB spot
Beyond the two deep, wonder how LB depth looks? Hope we can stay healthy there.
Wow just noticed Robison gets the nod over Hasan.
Back to the CBs look how much bigger the two back up corners are
In Holgo's presser, he bascially said beyond the WRs, depth chart can still change and lots of guys are in the mix. Also Ugwoegbu was a captain at OU last season. Like hearing we have guys who can lead beyond the captains.
Our starting front 4 on the d-line looks solid. I really like the kid from OU as a replacement for the players lost from last year. Beyond that, we'll have to wait and see how the second string unit plays before judging. While Caldwell came on strong last year, some of the other guys are unproven. Would love to see the true freshman Justin Benton step up if he's not redshirted.
I'm no expert but Holmes Jr looked good in his 4 games. Not surprised he is on the two deep
Surprised too. I thought Hasan was a captain. I figured Malik and Hasan would be the two LB starters.
This is for the lazy who don't want to click on X.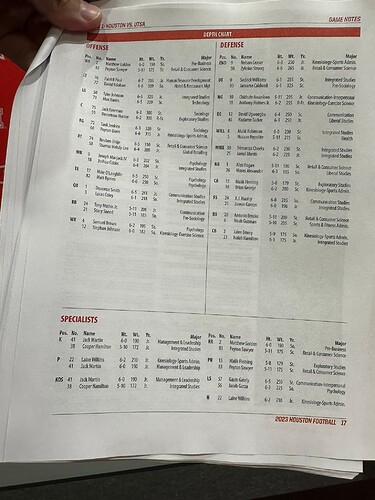 Our starting cornerbacks are small. No way both start at that height! One goes to nickle.
Anthony Holmes gives us height at the DT position.
The new underwater basket weaving degree.