Perfect Game picks their Eight For Omaha in 2017 and has UH listed in their Next Eight.
CTW has got to have a good one next year
If Barfield and Scheiner can hit like they did in JUCO ball then this is going to be fun. Wong, Julks, and Davis are each all-conference caliber players. Need Casey and Taylor to be better (or else they will get replaced again).
Really curious to see how we handle the C position. I would be surprised if they move Wong back there.
Wong is primarily catching in Summer League and I saw an interview with Joe Davis after the season where he said he'll be working on catching in the offseason. Padgett was a catcher primarily in high school and has been raking so far this summer. Also have 2 freshmen catchers coming in, Nick Slaughter and Charlie Bartlett; Slaughter was the Astros 35th round draft pick so look for him to push for playing time as he supposedly was very impressive during a workout with the Astros.
This team should be top notch next year. The hitting should be much improved as guys like Hollis, Reyes, and Taylor should be pushed for their starting positions if they can't hit. The days of struggling to score runs should be over. The strange thing is this: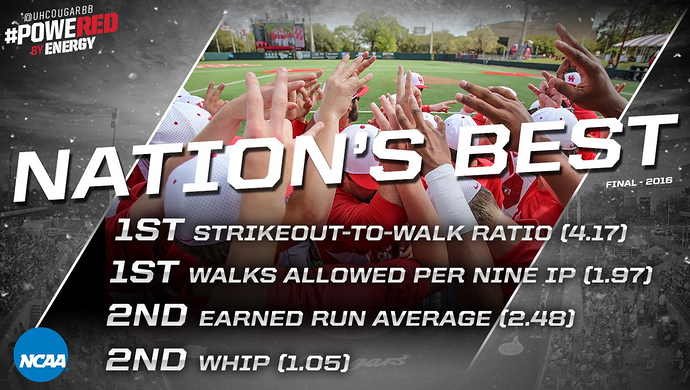 We were elite this past season and we should be even better with more depth next year. We lose Lantrip, Maxwell, and Hernandez, but everyone else is back to include Romero, Ullom, and Cumbie. Fletcher and Kasowski will be back from injury (Kasowski's looked good this summer). Throw in the impressive pitching class we're bringing in: Henry, Lockhart, and Villarreal were all PG 1st Team All-state this year, and 2 of those 3 were drafted; Pettite, Lester, and Bielamowicz were all 2nd-team All-state. This staff is stacked and should be for the next few years.
Elite on pitching yassss, but the offense was not. Hopefully the new recruits pan out. Seth Romero tho, STUD!
I'm not buying into any preseason hype on this team anymore…withholding any opinion until after the season starts.