Phi Slama Jama Documentary airs Oct. 18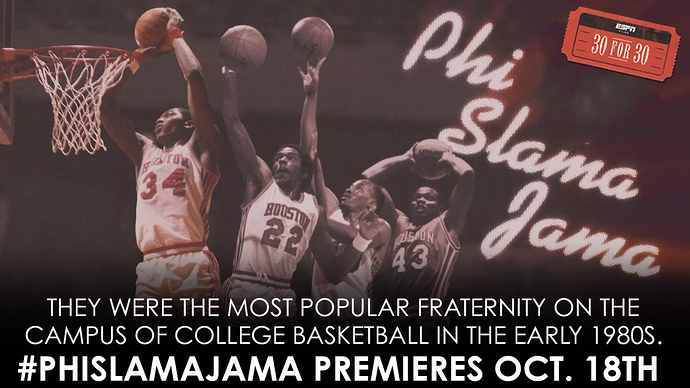 http://www.uhcougars.com/sports/m-baskbl/spec-rel/100416aaf.html
.
ESPN FILMS DEBUTING THREE NEW 30 FOR 30 DOCUMENTARIES THIS FALL, LED BY PHI SLAMA JAMA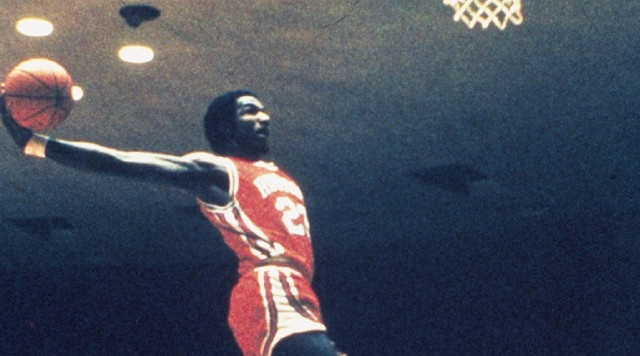 "Phi Slama Jama," focusing on the legendary University of Houston college basketball team that featured Hakeem Olajuwon and Clyde Drexler, and made three straight Final Fours from 1982 to 1984, will premiere on Tuesday, Oct. 18. Directed by Chip Rives (The Eighth Wonder of the World), the documentary isn't just a chronicle and celebration of one of college basketball's great teams (who suffered one of the sport's most heartbreaking losses in 1983). It's also something of a mystery, attempting to find the whereabouts of role player Benny Anders, who disappeared after being kicked off the team in 1985.
Phi Slama Jama Explored, Benny Anders Found in ESPN's Latest 30 for 30

At the core of this latest from the ESPN Films crew is that singular loss, a game that many believe cost Coach Guy V. Lewis three decades of exclusion from the Basketball Hall of Fame. But as per usual with the Emmy Award-winning program, there is a lot more to the story. If you lived through it, you'll cheer and cringe and feel exhilarated and deflated as you did then. If you know of Phi Slama Jama only from the history books, this is an inside peek at one of the great phenomena in all of college sports.
I'll be at the watch party for sure.
I don't expect to be at the watch party. However, it would be awesome if people showed up in a pink tux like Benny Anders wore to the Final Four.