https://www.houstonchronicle.com/texas-sports-nation/college/article/uh-dana-holgorsen-players-support-18363179.php
https://twitter.com/Joseph_Duarte/status/1701758083997770008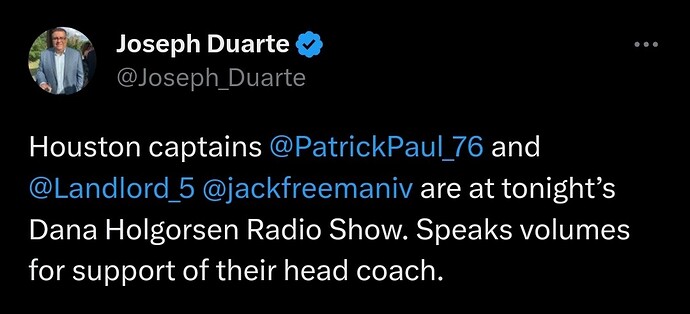 Interesting.
lol…can we stop with the excuse making rainbow pumping???
If you wan to support your coach, FIND a way to win the Big 12.
Your journey starts Saturday.
Everything else is word salad…blah blah blah
Pretty evident by the captains showing up, the team wants to win and wants to play for CDH. With two halves like the second at Rice, we could surprise a few teams. You cannot spot teams 28 points and expect double OT.
Yeah, if you have watched over the last couple season the team never gives up on Dana. I went to the Memphis game and gave up and left when we were down 16 after Memphis drilled a field goal. I had to watch the end of the game on DVR in the hotel room. As far as this season goes as long as the team comes out and plays hard for the second half every week he will have a job for the rest of the season, who would replace him Belk?
It's great the captains would accompany Dana to his radio show, but successful coaching at this level is not a player driven popularity contest. A glaring example we can all relate to is Tony Levine.
When we hired Dana i never imagined he would remind me of Levine
So they will show up for CDH's radio show but not for the first half of a rivalry game? That makes sense, or not.
His coif is steadily heading in that direction
What would you call the 2nd half of Kansas game?
Just because we got beat does not mean we gave up. It was shocking at the time because we were an 8.5 point favorite and came out to a 14 lead, but Kansas turned out to be a pretty good team when Daniels was 100%.
Now if they just show up mentally for his practices
The Rice game was crazy, but we are a PAT in double overtime from not even having this conversation.
Players loved Levine too. The fact they are still playing for UH shows some level of support for the coach. It doesn't mean they are the right guy to lead the program. Dana certainly isn't. Pezman isn't.
We 100% quit that game……Coaches included.
I know what it looks like when coaches and players have quit and are simply going through the motions.
You don't have to believe me……but before you say I'm wrong, go back and watch the second half of that game.
It was obvious they quit. When it got pointed out on here, The Dana Cult attacked.
Players attending a Coach's Show is sunshine pumping and only by winning the conference championship can they support their coach.

Win the B12? LOL.
How many times did we win the AAC ?
Answer: One time in 8 years.
CDH must be feeling the heat to bring players with him for radio. My favorite part of the radio show was when CDH declared he was not going to talk about Rice anymore.
I remember the players celebrating with Dimel when he won his last game, and the few fans there were celebrating because it had already been announced he was fired.