Post Game Analysis: Cincinnati
By: Jimmy Schofield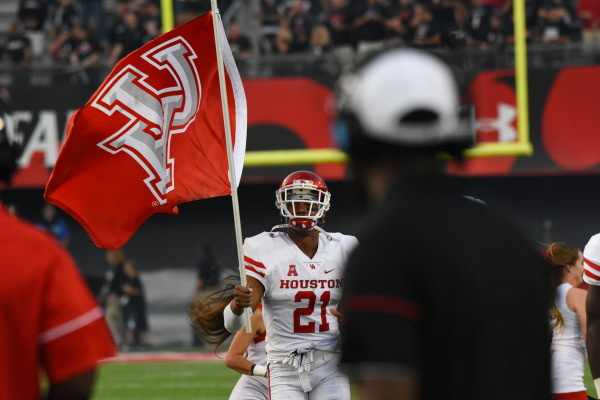 Photo via uhcougars.com
As bad as your sixth ranked Houston Cougars played through the first three quarters Thursday night at Nippert Stadium, they dominated the fourth quarter, forcing three Bearcats turnovers (scoring off all three including two pick-6's) while scoring 28 unanswered points to win 40-16.
Let's take a look at how all three units looked.
Offense
The game got off to a slow start offensively for both teams as neither could establish an inside run game. Head coach Tom Herman and offensive coordinator Major Applewhite along with offensive line coach Derek Warehime should be disappointed in the offensive line play, especially the interior. Guards Alex Fontana and Mac Long were continually bull rushed right into the face of quarterback Greg Ward Jr. throughout the night. The tackle combo of Josh Jones and N'Ty Rodgers faired somewhat better on the edges, giving running back Duke Catalon room to rush for 67 yards on 16 carries with most of them coming in the final quarter. In fact, of the Coogs 180 net rushing yards, 78 came in the fourth (not including three kneel downs to end the game) as Cinci's defensive line began wearing down.
In the fourth, Ward took over, rushing for 21 yards on 4 carries including an improbable 12 yard scamper for a score after holding the ball for what seemed like an eternity on 3rd-and-goal to give his team a 19-16 lead they wouldn't relinquish. The senior QB would go on to score again on a QB sweep on their next possession to up the lead to 26-16 after a turnover (which we'll get more into in a bit).
In all, Applewhite used Ward more as the game progressed, using Catalon and tight end Tyler McCloskey as lead blockers as the senior QB carried the ball a career high 26 times (but for only 73 yards). He was also sacked three times; something Warehime and Herman said is unacceptable. Mulbah Car added 25 physical between-the-tackles yards on five carries during the two offensive TD drives in the fourth. Fellow freshmen D'Eriq King and Dillon Birden (who played defensive back just last week against Lamar) added an additional 28 yards on 6 carries as underclassmen are going to have to contribute if this team is going to be successful. In all the ground game helped them to chew up 8-minutes, 46-seconds of the fourth quarter and just over 38-minutes for the game.
Passing wise, Ward continues to show the improvement that Herman talked about over the off-season as he carved up Cinci's secondary for 326 yards, completing 24-of-36 passes. He started the Coogs evening off right with a beautiful 39 yard laser to Chance Allen for the first score of the game. Allen had 94 yards on 5 receptions in his first breakout game of the season. Fellow outside receiver Steven Dunbar added only 18 yards on just 2 receptions. Slot receiver Linell Bonner was the star of the receiving group with 119 yards on 8 catches. Isaiah Johnson and McCloskey added a catch for 32 yards each and Catalon 30 yards on 5 receptions, mostly on swing routes out of the backfield to keep the Bearcats defense honest. Ward continues to connect on the back shoulder fade as it's impossible for corners to defend against, especially on post routes. Ward did throw two bad interceptions, but I blame his bad shoulder more than anything as both passes looked like "wounded ducks" on release (no spiral).
Defense
The "3rd Ward Defense" was the star of this game for the Coogs, particularly the run defense as they held the Bearcats to 30 net yards on 25 carries, including sacking Cinci QB Hayden Moore three times. Only Ed Oliver, Jerard Carter and Cameron Malveaux registered anything on the stats sheet (a combined five tackles), but they along with B.J. Singleton stymied anything along the interior putting the Bearcats in second-and-long downs throughout the game. "Rush" outside linebacker Tyus Bowser continues to play great this season as he added 7 tackles, including 1.5 for loss and a sack. He also continues to play above average in coverage when dropping back in defensive coordinator Todd Orlando's zone blitz looks.
Speaking of bringing the heat, that's what linebacker Steven Taylor did, registering 9 tackles (2 for loss), 2 sacks and a lumbering 74-yard pick-6 on a Orlando delayed blitz call to seal the game late. Fellow backer Mathew Adams added 9 tackles himself with D'Juan Hines and Emeke Egbule adding 4 and 3 tackles respectively as they received more playing time because of an injury to Brandon Wilson.
Speaking of the secondary, while allowing Moore to pass for 275 yards on 21-of-37 completions (with 2 TDs), two pick-6's cost the Bearcats the game, signaling the return of the "Jack Boyz" as they produced three turnovers in the final quarter. Early on Orlando had his corners, Jeremy Winchester and Howard Wilson playing off of Bearcats outside receivers, giving them easy receptions for big gains. As the game progressed however, Orlando began tightening the noose via pressure while having his two young corners playing tighter man coverage which led to Wilson's 20 yard pick-6 to end the scoring. Wilson anticipated the pass and jumped the route after coming down off his man. Wilson had 8 tackles for the game (along with 2 interceptions) with Winchester adding 5 as safety Garrett Davis did as well. With Williams being hurt for much of the game, he added only 2 tackles, as did his backup; Terrell Williams. Safety Khalil Williams added only one tackle.
Special Teams
Jason Washington's unit was more hit than miss Thursday night; the coverage units did a solid overall job as did the return units; Wilson had a 56 yard kick return and King an 8 yard punt return. The punting wasn't that great as Dane Roy had some wobblers but did pin the Bearcats inside their own 20 on four of his six punts. Ty Cummings connected on his only field goal attempt of 32 yards and had five touchbacks in 7 kickoffs.
Final analysis
In a game that reminded me a lot of the UConn loss last year (missed opportunities and overall sloppy play aided by injuries), the Coogs did what they always do under Herman; overcome adversity by trusting their training. They trailed for the first time of the game at the beginning of the fourth quarter but Ward led the offense right back down the field to score to retake the lead while allowing Orlando's defense to close out the game out.
Herman and staff won't be happy with the penalties or lack of red zone production (only two TD's in four trips), but considering it was their first road game with the amount of injuries they're dealing with while playing a lot of underclassmen, I'm sure they'll take the victory happily.