Post Game Analysis: Memphis
By: Jimmy Schofield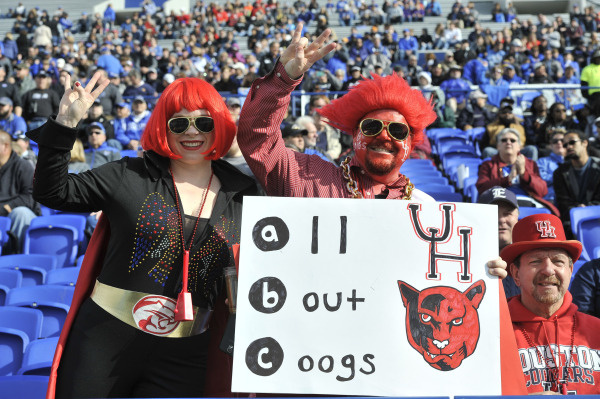 Photo courtesy uhcougars.com
Your Houston Cougars concluded their regular season with a hard fought, tough 44-41 loss at Memphis to finish at 9-3 overall and 5-3 in the American Athletic Conference's Western Division.
Let's take a look at how they fared on each side of the ball;
Offensively the Coogs finished with 624 total yards; 487 yards passing, 137 yards rushing. They converted 11-of-21 third downs and possessed the ball for over 33-minutes. Quarterback Greg Ward Jr. completed 47-of-67 passes for 487 yards and four touchdowns. Offensive coordinator Major Applewhite had to use the passing game in order to get back into it after falling behind 34-17 in the first half. Slot receiver Linell Bonner had another fantastic game whether it was quick slants or crossing patterns over the middle or on out routes or simply finding holes in the Tigers zone as he caught 17 passes for 235 yards. Bonner, like Ward, has been a true warrior all season playing with all sorts of injuries. His lone TD came on a 55 yard scamper in which he outmuscled a Memphis defender for the ball and raced to the end zone, giving the Coogs their first lead of the game at 37-34 late in the fourth. That was one of the few times he, or any of his teammates, had any YAC (yard after the catch) yardage.
Chance Allen caught 8 balls for 73 yards and two scores including a beautiful sideline catch for a 3-yard TD to give the Coogs their last ill fated lead at 44-41 with just under a minute and a half remaining in the game. Steven Dunbar added 5 catches for 48 yards but had two more drops including what could have been a 35 yard TD reception in the third quarter. Friday was somewhat of a coming out party for tight end Tyler McCloskey, in the passing game anyway, as he hauled in game career highs in receptions, 7, and yards, 86. He also had a TD on a 29 yard catch down the seam in the second quarter to bring the Coogs to within 21-17. It would have been nice for him to be used in the passing game more over his career. His blocking, especially on the perimeter, will be missed next season. Running back Duke Catalon had 7 receptions for 41 yards including a 22 yarder right before halftime on a dump off pass from Ward on third-and-long.
Speaking of Catalon, unfortunately the run game had to be abandoned after they got behind in the first half, though he had 44 yards on six carries through the first two drives. Overall, Catalon had 60 yards on 13 carries and a 10 yard TD run on an inside zone play to give the Coogs their first touchdown, bringing them to within 14-10 midway in the first. Ward was utilized more in the run game as he added 65 yards on 16 carries; 37 yards on five scrambles when the called pass play broke down, 31 yards on three draws, 12 yards on two speed option keepers via the perimeter, three yards on one RPO keeper (in which he went airborne and "helicoptered" his way to a first down) and one yard on a zone read option keeper. He lost 16 yards on three sacks.
The offensive line unit of Josh Jones, Mason Denley, Will Noble, Marcus Oliver and Braylon Jones performed as best could be expected against a Tigers defense that did a nice job of playing line games up front via stunting and twisting. Memphis also did a nice job of disguising where its blitzes were coming from, sometimes showing a full out blitz before dropping eight back into coverage. Other times they would bring a delayed safety blitz, forcing Ward to get rid of the ball earlier than he wanted. Ward was just off on many deep balls because of this and is why he completed a majority of his passes via rolling out of the pocket to one side or the other. Holding calls on both Joneses cost the offense first downs in the first half.
Defensively, coordinator Todd Orlando could not have been pleased with his unit as they allowed 555 total yards, 409 passing on 30-of-45 completions, and 146 yards rushing. Memphis QB Riley Ferguson completed his first 11 passes as the Tigers scored on all six first half possessions, putting 34 points on the board. The Tigers coaching staff definitely used the aggressiveness of the "Third Ward Defense" against them as they attacked the perimeter via the quick passing game over and over again in the first half. Getting the ball out of the QB's hands negated the Cougars pass rush. Orlando had his corners playing so far off of the Tigers receivers that they were almost assured of a first down each time they caught the ball as it was simple "pitch-and-catch" all day long, or the first half anyway. Add to the fact that the Cougars secondary missed numerous tackles just added to the YAC yardage of the Tigers receivers.
Jeremy Winchester was burned most of the day as I recall at least three receptions that combined for 132 yards on three Memphis touchdowns on RPO plays as he bit on the QB run game. If he's the third best corner then Herman and Orlando need to develop better depth at the position. Howard Wilson had six solo tackles in the first half but was ejected just before halftime for a targeting call. This forced nickel back Brandon Wilson to move outside and Terrell Williams to play most of the second half at nickel. Neither performed particularly well, though you really can't say anybody did when the opposition scores 44 points and amasses 555 yards of total offense can you? The safety combination of Khalil Williams and Garrett Davis didn't provide the adequate help for the corners even when in zone coverage. It was Williams who bit on an RPO, along with Winchester, that allowed a 67 yard pass for a score on Memphis first possession and for some odd reason Orlando had him lined up 10 yards off the Tigers best receiver, Anthony Miller, in the slot from the 10-yard line on a 3rd-and-five for the final touchdown to give Memphis the win. Miller torched the Coogs secondary no matter where he lined up as he caught 15 passes for 169 yards while Phil Mayhue added 142 yards on six receptions himself, as he burned any corner who lined up across from him as an outside receiver. Both caught two touchdowns as the Memphis receivers caught tough passes all day.
With the perimeter being stressed early, the middle was softened up via the Tigers inside zone game as they rushed for 146 yards on 34 carries. The trio of Doroland Dorceus (82 yards on 15 carries and a TD), Darrell Henderson and Patrick Taylor (36 yards on 7 carries each) gashed the defense between the tackles as nose guard Ed Oliver played on a strained MCL suffered last week against Louisville. Oliver didn't register a single stat as he was rotated in and out of the game frequently. After producing 14 tackles-for-loss and an amazing 11 sacks last week against Heisman front runner Lamar Jackson, the defense had only two TFL (by Tyus Bowser and Williams) and one sack (on a safety blitz by Williams). Linebackers Mathew Adams and Steven Taylor led in tackles with 10 and 8 respectively.
Special teams wise, punter Dane Roy executed a fake punt for the second week in a row, this time rushing for 11 yards on a 4th-and-six on a 'read play' in the third quarter. As he rolls via his rugby style punting, he reads if the opposing coverage unit is playing off him or not. If they fall back into coverage, he has the option to run which is exactly what he did on that play. For the game the "puntah" averaged 44 yards on two punts. Kicker Ty Cummings connected on all three of his field goals, including a 41-yarder but wasn't effective on kickoffs as he had only three touchbacks on nine kickoffs and also kicked one out of bounds. The Tigers averaged only 20 yards on five returns but since most of them were caught around the 10-yard line, Memphis offensive field position started around the 30 yard line.
Memphis kicker Jake Elliot meanwhile had seven touchbacks on nine kickoffs. Brandon Wilson tried to return one late in the second half but got only to the 9-yard line as he was trying to make something happen with the Coogs trailing by 17 at that point. He had another return for 35 yards as well. Colin Wilder didn't have a punt return but stopped a low punt from bouncing past him, saving his offense 10 yards and perhaps being backed up inside their own 10-yard line on a possession in the second half.
Bottom line, this game was lost because of mental errors and coaching. Were the mental errors due to all of the rumors swirling around about head coach Tom Herman leaving for LSU, Texas or Texas A&M? Only the players know the answer to that. I'm not sure those types of rumors have anything to do with the game itself however as the team continued making the same mental mistakes they have all season long; drops, holding calls, false starts, targeting penalties (9 penalties in all for 69 yards for a team that entered play Friday averaging only 4 penalties-per-game). Ward also made a rare but huge mental error as he didn't get out of bounds on the final play of the first half, running for 14 yards instead when he should have ran out of bounds as only seven seconds were on the clock before the play began. If he had run for seven yards he could have given Cummings an opportunity for a 42 yard field goal right before halftime. That play, along with Herman deciding to kick a field goal from the 3-yard line on a 4th-and-1 in the middle of the third quarter instead of going for it potentially cost the team seven points. In a four point contest that hurt. Scoring touchdowns on only two of four red zone possessions while Memphis scored three on four attempts was also the difference in the game. And once again the defense "almost" forced turnovers; as in Wilson dropping an interception and Winchester "almost" coming up with yet another pick-6. Unfortunately that's what this season has fallen to; could haves and should haves. Stay logged into Coogfans.com as we'll preview our bowl game during the week of the game.