2016 Post Game Analysis: SMU
By: Jimmy Schofield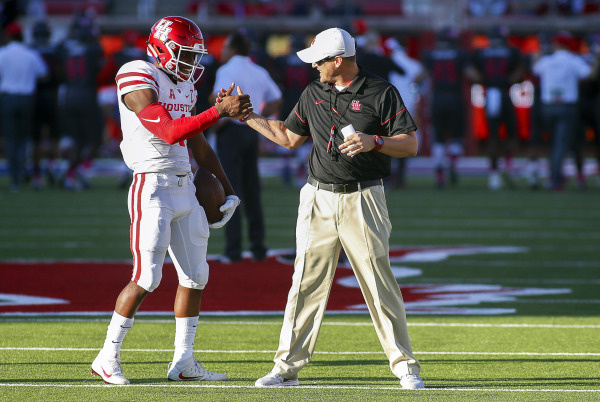 Photo courtesy uhcougars.com
After being dominated in every phase of the game, your Houston Cougars have not only had their faint playoff hopes dashed, but even defending their American Athletic Conference championship looks pretty bleak at this moment after watching the SMU Mustangs defeat them 38-16 Saturday night in Dallas. The loss drops their record to 6-2 and 2-2 in AAC play and will almost assuredly drop them out of the AP and coaches top-25.
How does a team that looked so focused to start the season look so bad the past three weeks? Maybe the fact that the University of Houston was denied membership into the Big12 this past Monday? Maybe all the rumors swirling that their head coach, Tom Herman, will leave at the end of the season for another job? Maybe it's the fact that the team is one of a few in the nation that hasn't had an off-week yet, playing eight weeks in a row to begin the season. The student-athletes are tough, as many of them are playing with injuries, but that's all speculation. Let's take a look at what happened Saturday night.
This game began and ended in the trenches for both teams. Offensively, the Coogs only rushed for 62 yards on 35 total carries, including 57 yards lost on SEVEN sacks and TEN tackles-for-loss. The offensive line began play Saturday night short two starters in right tackle Na'Ty Rodgers and left guard Marcus Oliver. Center Will Noble left the game in the third due to shoulder issues he's been dealing with for the past few weeks, forcing Alex Fontana into his spot with Kameron Eloph replacing Fontanta at left guard. The interior (including right guard Mac Long) couldn't adjust to SMU's stunts and twists up front. The tackles, Braylon Jones at right and Josh Jones at left, didn't fare much better as when offensive coordinator Major Applewhite called for any type of outside zone run play or sweep, little yardage was gained.
Out of the aforementioned seven linemen, only three are returning starters (Oliver, Noble and Eloph), two if you account for Oliver only starting a few games at left tackle last season before an ankle injury shelved him for the season. Out of that seven, four are upperclassmen but two are newcomers to the program (Rodgers and Fontanta are JC transfers). Meanwhile, Noble and Eloph are true sophomores while Josh Jones is a redshirt freshman and Braylon Jones is a true freshman. These aren't excuses, just facts that a non-P5 team doesn't have the depth to overcome major injuries when you play for eight straight weeks.
Speaking of injuries, running back Duke Catalon returned after a three weeks absence due to concussion issues and rushed for 54 yards on 17 carries but could never get into the flow as he seemed unsure of which holes to choose in the inside zone game. Dillon Birden only carried the rock once, for 5 yards on the opening series. SMU's front seven did a good job of keeping contain on quarterback Greg Ward Jr. via a "mush rush," or when the defensive ends/outside linebackers don't rush up the field full out, as that allows outside lanes to open up which Ward uses to kill opposing defenses with his blazing speed. Ward rushed for only three yards (after the sacks are added), on 17 carries. Two scrambles (pulling the ball down and running on called pass plays) accounted for four yards. He had 29 yards on two called draws while rushing for 18 yards on four zone read keepers. One play that hasn't worked this year has been the QB sweep. Three were called Saturday night by my unofficial count that resulted in only eight yards. A huge factor in this is the lack of blocking by the running backs as lead blockers. Kenneth Farrow (currently playing with the San Diego Chargers) is surely missed by both Ward and Applewhite in this respect.
With no run game to lean on Saturday night, the Ponies did a nice job of mixing up their man and zone coverages as Ward completed 21-of-33 passes for 241 yards and two touchdowns. Many of his passes were dropped, at least five before I just stopped taking count late in the third quarter. Chance Allen and Linell Bonner fumbled Ward completions on the Coogs first two possessions, setting the tone for the game. Allen also had an early offensive pass interference call but finished with 84 yards on 5 catches. Catalon caught 4 passes for 61 yards including a nice 51 yard run as the outlet receiver when SMU dropped back in zone coverage early in the fourth quarter. Again, not to use the injury excuse, but Bonner was playing with a hurt shoulder and groin and it showed as the leading receiver coming into the game had only 24 yards on 4 grabs. Steven Dunbar only had 20 yards on 3 catches but a nice 5 yard reception when he high-pointed a Ward fade for a 5-yard TD grab for the Coogs first score of the game. Tight end Tyler McCloskey also had a TD catch on a 3-yard throwback across the formation to bring the Coogs to within 28-14 early in the third quarter. Ward just looked off in terms of communication with his receivers for much of the night, throwing back shoulder fades while his receivers went deep more than a few times on the evening.
Defensively, this is as bad a game as I've seen the Coogs play under defensive coordinator Todd Orlando. The "Third Ward Defense" allowed 406 total yards to the Ponies, 228 through the air and an unfathomable 178 on the ground, many between the tackles. The front seven of Jerard Carter, Ed Oliver, Cameron Malveaux along with linebackers Steven Taylor, Mathew Adams and Emeke Egbule (as they went with a 3-3-5 or a nickel look) bottled up the run for the most part until later in the game when you could tell they just started to wear down. Two runs accounted for nearly 80 of the 178, but SMU was able to stick with the run game (rushing 40 times) as they had the lead the entire game. For the first time this season Big Ed was stymied for most part as he produced only three tackles, including one for loss.
The pass defense is where Orlando needs to shore up his team as the Mustangs passed for 228 yards on 16-of-31 completions with ZERO interceptions and three TD's. The secondary continues to look confused in their communication with one another. The cornerbacks and safeties failed multiple times in their zone coverage in picking up SMU receivers left off from one zone to another, allowing them to roam free down the field. This happened on two of the Ponies touchdowns, the first on a wheel route thrown to their tight end for a 31yard score in which safety Khalil Williams failed to pick him up deep down the field. The second on a 28 yarder to one of their slot receivers in which he was failed to be picked up at all as three members of the secondary took the outside receiver, who crossed inside as the slot went outside. Of course it didn't help that SMU's QB had all day to throw the ball as the Coogs could muster only three tackles-for-loss and ZERO sacks on the game.
You know it's a bad game defensively when five of your top seven tacklers are members of your secondary; cornerback Howard Wilson with six, nickel back Terrell Williams with five , corner Brandon Wilson and free safety Khalil Williams with four each. Taylor led the team with seven tackles with Adams adding six and a fumble recovery from their linebacker spots. Speaking of turnovers, the defense needs to start producing more. Several times this season, including Saturday, members of the secondary almost came up with interceptions. Unfortunately, almost doesn't cut it as the offense could use some help in terms of field position.
And speaking of field position, the offense started inside their own 15-yard line FOUR times because of bad special teams play. Brandon Wilson and D'Eriq King made bad decisions in fielding kickoff and punt returns that resulted in two of said possessions while a hold on another Wilson kick return resulted in a third start of a possession inside the 15. Dane Roy averaged 41.8 yards on his six punts but only pinned SMU inside their own 20-yard line once. Ty Cummings missed two field goals, including a 19 yarder late in the game.
Herman, Applewhite, Orlando and the rest of the coaching staff need to look themselves in the mirror and get this team to refocus as they take on the Knights of Central Florida next Saturday at TDECU Stadium. Mistakes such as turnovers, drops, penalties and missed tackles are more mental errors than physical so the coaching staff will have to do their best job yet to get this team back on the winning track. Stay logged into Coogfans.com as my UCF game preview will be out by midweek.