Post Game analysis: Texas State
By: Jimmy Schofield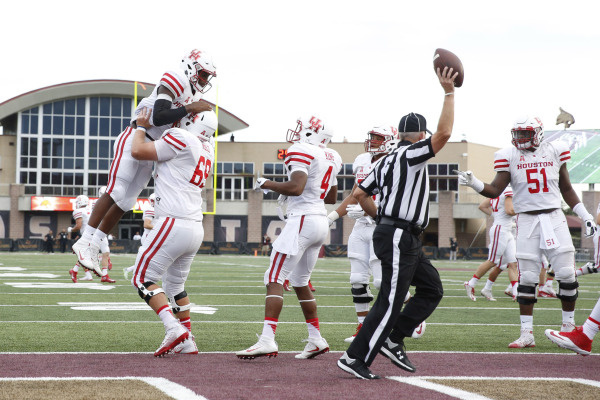 Photo via uhcougars.com
Dominating in every phase of the game, your sixth ranked Houston Cougars defeated the Texas State Bobcats 64-3 Saturday night in San Marcos. In yet another balanced attack the Coogs produced 563 yards of total offense (320 through the air and 243 on the ground) while controlling the ball for 36-minutes. The Bobcats had only 142 yards of total offense and 33 rushing. With that, let's take a look at how each phase of the game performed.
Offense
Head coach Tom Herman commented after the game on how offensive coordinator Major Applewhite called a brilliant game against the Bobcats, and that he did. While the inside run game struggled for awhile early on (not converting a few third and fourth-and-shorts), Applewhite had quarterback Greg Ward Jr. unleash an air show on the Bobcats to the tune of completing 20-of-26 passes for 289 yards with three TD's passing Saturday night. He completed 9-of-14 passes for 141 yards in the first quarter alone as Applewhite had the offense establish the quick outside passing game while trying to unclog the box.
Kyle Postma handled the second half and completed 4-of-5 passes for 16 yards and ran for another 19 yards on three carries with two TD's. His final score came on a 15 yarder in which he spun to avoid a defender on the way to the end zone.
With the Bobcats playing man coverage on the outside, receivers Steven Dunbar and Chance Allen had free reign against smaller Bobcat cornerbacks. Dunbar had 5 receptions for 79 yards and a TD with Allen catching 4 balls for 52 yards on the other side. With both at 6-foot-3 inches and over 210 pounds, it's almost impossible for smaller defensive backs to defend them whether it's on a deep post or a back shoulder fade which Ward has been so accustomed at throwing this year. The receivers as a unit ran great routes and blocked superbly as well.
With as much attention that's been paid to Dunbar and Allen coming into the season, it's been the slot receivers who have really shined in Linell Bonner and D'Eriq King. The true freshman had a coming out game with 4 receptions for 61 yards including a 48 yard TD on a basic pitch-and-catch in which Dunbar blocked his corner allowing King to make his defender miss on the way to the end zone. King also had a 27 yard run and 130 yards on two kick returns including a 99-yard TD to open the second half. Bonner led the receivers with 6 receptions for 52 yards and a five yard TD in which Ward extended the play with his legs, which he's so adept at doing.
Reserve outside receiver Isaiah Johnson caught a pass for 14 yards and tight ends Tyler McCloskey, Alex Leslie and Chris Johnson caught a combined four passes for 44 yards as multiple tight end sets were used for the first time by Applewhite, that I can recall.
As far as the run game is concerned, the inside lanes were opened up after a rough start as Duke Catalon rushed for 77 yards on just 10 carries, with one of them a 35 yarder up the middle. Mulbah Car had established himself as the second string RB and had only 13 yards on 5 carries but looked to be the best threat in gaining the physical yards on the interior on short yardage downs. Unfortunately, the true freshman had to be helped off the field with an apparent knee injury. Herman said he's getting an MRI this week but it looks to only be a strained knee.
With Car out, Dillon Birden came in and ran for 21 yards on 7 carries and a TD. Even at 5-foot-9 and 175 pounds, Birden isn't afraid to run between the tackles as a two yard TD run in the third quarter demonstrated. Kevrin Justice and Josh Burrell each ran 7 times for 38 and 26 yards respectively in the second half with the game out of hand.
Ward rushed for only 39 yards on just 7 carries, but scored the first TD of the game with a 10 yard run on third-and-goal from the Bobcats 10 yard line in which he initially wanted to pass. The run reminded me of the play at Cinci last week that gave the Coogs the lead in the fourth quarter. He was patient in the pocket and once he determined nobody was open it looked as if he were running in slow motion as he avoided defenders on the way to the end zone. I guess that would have made the defense running in super slowmo?
Offensive line coach Derek Warehime trotted out yet another different starting offensive line to help the interior which were Marcus Oliver and Kameron Eloph at left and right guard respectively, replacing Mac Long and Alex Fontana. The Coogs interior running improving was a combination of the patience Applewhite had in continuing to run against a smaller Bobcat defensive front, and the quick passing game by Ward and the receivers opening up the middle of the field. Tackles Josh Jones and N'Tay Rodgers and center Will Noble continue to play consistent ball at their positions as does McCloskey helping out from his tight end spot.
With the game so out of hand, Coogfans got a glimpse of the future along the line as Braylon Jones and Jarrid Williams got extended playing time at left and right tackle with Mason Denley at guard and Ryan Deshotel seeing time at center in the second half.
Defense
The Third Ward Defense showed once again why Herman said the defense is the base of the team as the Bobcats could never establish a run game, inside or out. With being put in continuous second and third-and-long down and distances, defensive coordinator Todd Orlando could show the Bobcats offense exotic looks with his defensive front, disguising where the blitz would come from.
Many of these looks had the defensive front rushing from a standing position with safeties showing blitz from the box while linebackers would rush wide from the "7 hole" or where the tight end lines up, many times on called delayed bitzes.
As always with Orlando's defense, it starts up front as his line of Jerard Carter and Cameron Malveaux and ends with Ed Oliver at the nose totally clogged up the interior as Texas State could muster only 33 yards on 23 attempts. Reserve linemen Nick Thurman and B.J. Singleton also had nice games though the stats never show it as the down linemen combined for 11 total tackles with 1.5 tackles-for-loss. Players getting playing time who usually wouldn't, because of the score, included true freshman Aymiel Fleming who had a sack and a TFL from the nose and Zach Vaughn who also had a TFL.
With as much attention paid to the down linemen, especially double teams on Oliver, the linebackers had another nice game led by inside backer Mathew Adams, who had 4 tackles including one for loss and a sack that almost forced a fumble. Steven Taylor had a rare game in which he didn't show up on the stats sheet as he had only two tackles, but with so much of the focus on him it opened up gaps for other linebackers to fly though, including D'Juan Hines who led the linebacker unit 5 tackles. Tyus Bowser only had one tackle but again, most of the starters played mainly in the first half.
With nickel back Brandon Wilson sitting out due to a lower leg injury suffered against Cinci, safeties Khalil Williams and Garrett Davis had more responsibility helping out in the run game as Davis led the defense with 7 total tackles, including 4 solo and one for loss. Williams was especially effective in helping out in the box with two TFL and a forced fumble. He also had a pass breakup early on in the game.
Cornerback Howard Wilson is slowly but surely becoming the "Jack Boyz" shut down corner as he intercepted another pass and had two pass breakups on the night. Jeremy Winchester had three total tackles from the other side. Joeal Williams had his own coming out party at corner in the second half as he produced a TFL, a forced fumble and a sack. Ka'Darian Smith and Terrell Williams also had two sacks each with Williams filling in at Wilson's nickel spot.
Special Teams
With Wilson out, King excelled in the kick return game as mentioned earlier with that 99 yard kick return. He's the type of explosive, slippery athlete who needs the ball in his hands as much as possible, and the return games are ideal for this. The true freshman also added 16 yards on 3 punt returns including an 11 yarder.
Coverage wise, **Jason Washington'**s units allowed only 17.6 yards per kickoff return, though a few were fumbled by Bobcat return men, giving them horrible starting field position more than a few times in the first half.
Punter Dane Roy boomed one 49 yards but averages just 39 on three total punts. Kicker Ty Cummings had a bad game as he missed two extra points. One appeared to be blocked but he kicked it with a low trajectory. Missing extra points or short field goals as Cummings has in earlier games shows a lack of concentration, something Herman won't put up with for long. In the second half, walk-on kicker Joel Scarbrough connected on an extra point. While Herman said Cummings job isn't in danger, competition is always a focus during practice.
As always, minus one bad onsides kick attempt, the coaching was excellent. Herman and his staff have built such a culture that when the Coogs face inferior talent; they dominate. When they face equal talent; they rely on their training, persevere and win. Line them up against superior talent (on paper); they hit you in the mouth, compete, and win. Stay logged into Coogfans.com as my scouting report on UConn will be out later in the week as the Coogs host the Huskies in another Thursday night, ESPN nationally televised game.