Post Game Analysis: UCF
By: Jimmy Schofield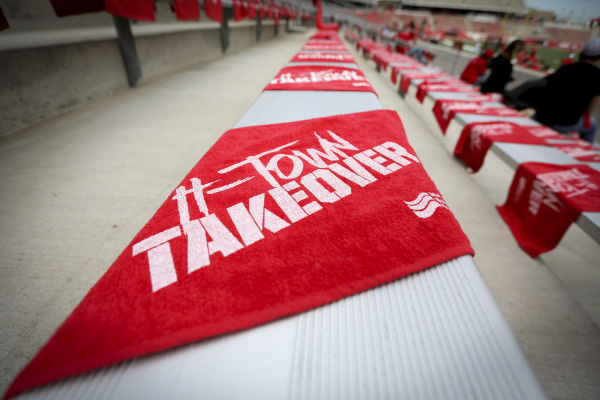 photo courtesy uhcougars.com
In what head coach Tom Herman described as a one-game season, your Houston Cougars overcame a horrible first half of play and a 24-3 second half deficit by scoring 28 unanswered points to defeat the Central Florida Knights 31-24 Saturday afternoon at TDECU Stadium. Now let's take a look at how they accomplished this.
It was a tale of two halves
In the first half offensively, the Coogs had only 112 total yards and MINUS 12 rushing. Quarterback Greg Ward Jr. completed 16-of-24 passes for 124 yards but had THREE interceptions. The first wasn't his fault as his receiver Chance Allen slipped (or was pushed) on his route. The second was a good play by the defense as a UCF's middle linebacker Mark Rucker, got a hand on the pass just over the line of scrimmage, turning it into a tip drill as outside linebacker Shaquill Griffin, who was all over the field (spying Ward mainly), came down with the ball. The former safety had 14 tackles (12 solo), 3 for loss, 2.5 sacks, a fumble recovery and said interception. He also sold popcorn at halftime to one of the few remaining fans who bothered showing up Saturday afternoon. The third interception was just a bad throw as Ward threw high to receiver Steven Dunbar as he felt pressure racing towards him no doubt. The throw was also into triple coverage.
Ward was feeling the heat for most of the first half, not from the weather but from the UCF defense as they sacked Ward three times and pressured him countless other times. The offensive line was missing two starters; right tackle Na'Ty Rodgers (ankle) and most importantly, center Will Noble who was out with a stinger. Snaps from Noble's replacement, Alex Fontanta, were high throughout the day, throwing off timing of many plays. On running plays, he and guards Marcus Oliver and Mason Denley just couldn't get the push they needed up front to establish an inside run game. Josh Jones and Braylon Jones, from their left and right tackle spots respectively, couldn't keep the edge pressure off of Ward and the running backs either.
Offensive coordinator Major Applewhite has had to dance around not having an inside run game for most of the season. UCF wouldn't allow it as they lined up in 'Bear' looks along the defensive front, with their three down linemen lining up over the guards and center with their two outside linebackers lining up on the outside shoulders of the two Cougar tackles. Or basically they showed lots of five man fronts that forced Ward to the outside passing game, particularly to versatile running back Duke Catalon on swing passes out of the backfield to get him out in space as he was the leading receiver for the Coogs with 7 receptions for 40 yards. Catalon even lined up wide to force a smaller cornerback to cover him on a few of his receptions. In the first half he only had four rushes for six yards. The second half however he carried the rock 15 times for 76 yards and a touchdown (on a 12 yard run) that tied the game late in the third quarter. For the game Catalon had 82 yards on 19 carries.
Fellow running back Dillon Birden added 10 carries in the second half for 73 yards (11 for 76 for the game) including a long of 46 on a speed option pitch out from Ward on their first scoring drive of the second half. Two plays later Ward scored on a one yard zone read keeper to bring the Coogs to within 24-10. The drive went for 75 yards on 8 plays, ALL runs. Ward rushed for only 15 yards on 17 carries but he lost 26 yards on four sacks and a bad snap by Fontana on the Coogs first offensive play from scrimmage. Ward had 34 yards on four called draws, nine yards on five zone read keepers and four yards on three scrambles (all my unofficial count). He also scored two TD's, one on the aforementioned zone read keeper, the other on a called draw for 15 yards (with a nice block by Catalon) to give the Coogs the lead at 31-24.
The second half, aided by great field position via the defense which we'll get to in a bit, Ward completed 10-of-13 passes for 116 yards and ZERO interceptions. D'Eriq King, playing in place of Linell Bonner at the slot who was out with a separated shoulder, caught 4 balls for 55 yards. The true freshman caught two nice second half passes on crossing patterns over the middle for 15 and 21 yards in his first meaningful contributions receiving wise in weeks. Dunbar caught 5 passes for 52 yards while Allen hauled in 3 receptions for 47 yards from their outside receiver spots.
One changeup Applewhite threw at UCF was the use of the tight ends in the passing game as Tyler McCloskey caught 5 passes for 42 yards and Romello Brooker caught just his second pass of the season, a six yard TD from Ward to bring the Coogs to within 24-17 in the middle of the third quarter.
Ward completed 26-of-37 passes overall for 240 yards as UCF did a nice job mixing up when they would pressure out of their 3, 4 and 5 man fronts and when they would fall back into coverage, taking away the deep ball much of the afternoon, forcing Applewhite to go with the quick passing game which loosened up the interior for the second half. This has been the case for most of the year as Ward isn't running effectively as last season and there is no between the tackles bruiser like Kenneth Farrow to put the offense in second or third-and-short downs like last season. Tempo also helped to wear down UCF as the Coogs ran 47 second half plays and possessed the ball for just over 34-minutes.
One play summed up the Coogs defense over the first eight games of the season in regards to forcing turnovers when outside linebacker D'Juan Hines tipped a UCF pass during their third possession that fell between three members of the secondary. Last season that would have been an interception and maybe even a pick-6. The second half was the return of the "Jack Boyz" as the cornerback duo Howard Wilson and Brandon Wilson each intercepted passes as part of FOUR UCF second half turnovers. Houston defensive coordinator Todd Orlando's "Third Ward Defense" played lights out most of the game, particularly in that second half when they allowed only 29 yards (195 for the game) and MINUS 37 rushing thanks in part to three sacks and relentless pressure that was released on Knights QB McKenzie Milton. While the true freshman didn't play badly in the first half, the second half was a different story as he threw the two interceptions and had a fumble. In all the Knights four turnovers led to 21 second half Houston points.
The Coogs also had four turnovers, three in the first half that led to 17 UCF points. Houston's offense started in Central Florida territory on three of their second half scoring drives thanks to the turnovers produced; forced fumbles by reserve defensive lineman Nick Thurman and B Wilson that were recovered by inside linebacker Steven Taylor and safety Garrett Davis respectively.
The Knights Tre'Quan Smith caught 13 passes for 137 yards, with many from the slot as he wasn't picked up when the Coogs went into zone coverage (another unfortunate continuing theme). Besides Smith not a single UCF receiver caught more than two passes with their athletic tight ends catching ZERO passes. Under duress most of the second half, Milton completed 19-of-33 passes for 155 yards.
Coach Herman said no strategic changes were made at halftime, except for the defense lining up in their correct spots and fitting their run gaps correctly to stop the UCF run game (they had 95 first half yards). They also got to the ball more with Wilson and starting defensive end Cameron Malveaux each amassing a sack, with Taylor and Thurman each adding a half sack. Ed Oliver played his usual lights out game at the nose, adding 3.5 tackles-for-loss and Taylor flying all over the field in the second half as he had 2.5 with the defense having 11 for the game. I almost thought Taylor wasn't in the game in the first half as I didn't hear his name called at all by the ESPN commentators.
With Mathew Adams out with a sore shoulder, Orlando went with a 3-3-5 base defense with Emeke Egbule and Hines starting outside and Terrell Williams at the nickel. Hines led the defense with 9 total tackles while safety Khalil Williams led with 7 solo.
Special teams wise, the punt return rotation continued Saturday, with receiver Marquez Stevenson returning one for minus two yards on a bad decision in which he fielded a punt inside his own five yard line in the third quarter. After that it was another true freshman, safety Collin Wilder's turn as he returned one for six yards. B Wilson returned two kickoffs for 55 yards, almost breaking one at the 27 yard line by UCF's kicker. UCF returned for kick returns for a 21.5 yard average and only one punt for three yards as punter Dane Roy placed two of his four inside the UCF 20-yard line. Kicker Ty Cummings connected on his only field goal, a 31 yarder in the second quarter to put the Coogs on the scoreboard.
The major difference between the first and second halves was mental mainly. They stopped making silly mistakes such as running bad wide receiver routes, committing offensive pass interference penalties, dropping passes, committing dumb roughing the passer penalties (Oliver) and jumping over the center on a field goal attempt (Malveaux) to give UCF's offense new life. They committed only two penalties in the second half as opposed to four in the first half for 55 yards. And most importantly, they won the second half turnover battle.
In all, the Coogs won a game they desperately needed as it was gut check time. At 7-2 and 4-2 in American Athletic Conference play, the Coogs have earned a much needed week off before hosting Tulane on November 12 for Homecoming. Stay logged into Coogfans.com for all your athletics news University of Houston related.