Replacing Elandon Roberts, an all-time great leader, a priority for Coogs
Anthony Oppermann
http://www.galvnews.com/sports/columns/boothreview/article_bf9aaff9-a6c8-5865-a8fa-4d12facee2ac.html?mode=story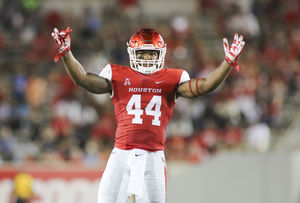 Matt Adams, who appeared in 13 games last season and totaled 49 tackles, is expected to fill Roberts' vacated middle linebacker spot, and Herman has seen some leadership ability from Adams — albeit unorthodox and very intense.
"He doesn't always say the right thing, but he can definitely get the defense going in the right direction," Herman said.
Defensive end Cameron Malveaux, who, like Roberts, hails from the Beaumont-Port Arthur area, is another candidate, and he is confident that, like with Roberts a season ago, a defensive leader will emerge.