2017 Houston Baseball Schedule Unveiled
.
Fullerton is a great series. Isn't Irvine pretty good too? Interesting that we are doing the same 3 game series with Sam Houston that we have been doing with Rice.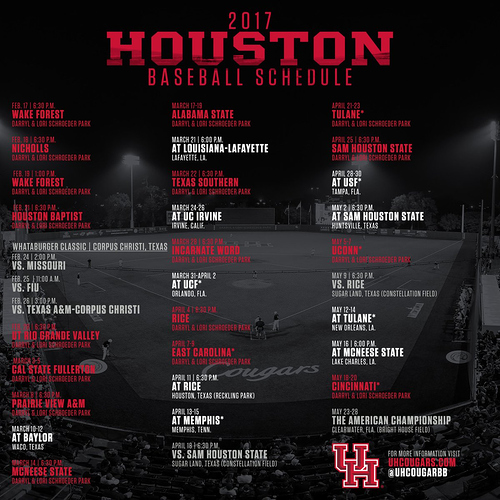 Good schedule here. Get Wake Forest, Mizzou, Baylor, ULaLa, UC Irvine, Rice, and SHSU. Those teams will help boost the RPI up quite a bit. Also get Tulane, ECU,and UCONN at home (Tulane on the road too) which really sets the Coogs up well to make a run at the conference title.
http://thedailycougar.com/2016/09/20/baseball-releases-schedule-for-2017-season/
"Once again, the schedule is one that I feel puts us in the best position to earn an NCAA at-large bid," Whitting said in a press release. "Our nonconference slate is filled with quality opponents, which gives us the opportunity to elevate our (Rating Percentage Index). This schedule will be a challenge to our team, and we are looking forward to the competition ahead of us."