Sure have come along way since empty games in The Hof against opponents nobody cares about.
I am so grateful for the years at the Hoff. I would take my two year old and she would have the run of an entire section. And we were guaranteed to leave with a t-shirt every game.
Still season tix holders and I am grateful she still loves going to games. We just need a field hockey team so she can also become a Coog.
Keep in mind we also redistributed about 600 seats we identified as unused or brokered.
Great news.
I got even more excited for a second when I thought this was on the football thread.
That's awesome. I really like the fact they did that. That's about 10% of our seats so should really help fill in what seemed like wasted tickets each game.
Yeah, Pez made a comment during the event at Lewis Jewelers that we were stripping tickets from brokers and redistributing to ticket holders. Pretty awesome.
Awesome!!! If coach is going to win the NC is going to be this year as they're loaded!!! I'm ready for the season to start.
Saw this in the Media Guide. Doesnt include last years attendance numbers. Average home game attendance:
2018-19 season: 6,052
2019-2020 season: 6,718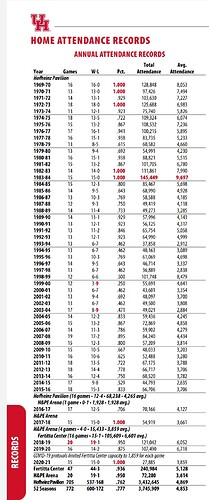 Can you tell me what unused means here ? It sounds like seats that have
been purchased or sold but never used. Are these generally higher dollar seats or
pretty much all over. Thanks for info and update.
I remember a season in the Dickey years when I went to the ticket office to buy four season tickets. The woman said, "Oh, just take five." No charge for the extra one. That's how desperate they were to get people to come to games…and that wasn't so long ago.
Needless to say, I doubt anyone got such a deal this year.
Unused are tickets identified as those that have been purchased, mostly in blocks, and not accounted for on entry or found on the ticket scalping sights.
The two seats next to us were unused all season. Nobody ever sat there. Why does anyone buy to not use them or resell them…
I've got excellent seats in 115 and often my whole row except a few would be empty. Hopefully that ends this year.
I'm in 115 as well, it's pretty full around me most of the time. Just the two between us and the aisle never get used. Very strange.
Going into the Big 12 and with how UH Basketball is selling out season Tickets, kind of wish they had expanded Fertitta Center capacity between 8-9K now. UH basketball is going to be the show and hot ticket in the city with how much the Rockets stink it up. Expecting a noticeable increase in Football season tickets going into Big 12, and with the limited capacity and what will be demand for basketball season tickets probably can expect a price increase there too. UH use to be the most affordable sport tickets in town. Slowly year after year prices are rising. I hope we don't get to a point where UH alumni and fans who have season tickets for both UH Football and Basketball have to choose between the two and drop season tickets in one of the sports.
After 2016, there was no guarantee UH was gonna get that Big 12 invite. Out of BYU, Cincy, UCF, and UH, weren't we the last pick to get in? And Tilman came thru to get us an invite, right?
I see your point, in hindsight, yeah 7,100 doesnt seem like alot.
But, if we didn't get a Big 12 invite. And now the AAC is Memphis, Wichita St, SMU, and others then 7,100 makes sense going forward.
The arena for weekend games is full, but during the week for AAC games, probably 1/2 full. About 4,000-5000 actual attendance
We built TDECU for room future growth planned but didnt for Ferttita Center. Was not the best of planning by UH Athletics. They forgot that while UH Basketball had been down for couple decades it still is our most accomplished sport with accolades. UH should of planned for the comeback of UH Basketball eventually and the return and growth of the basketball fan base.