Just curious how many fans does the Tulane gym hold? Announced crowd on ESPN is a little over 2700. Can that be right?
11:30. Let's be there by tip off!
Now we are getting ready to start this awful stretch of 4 games with very little rest between them.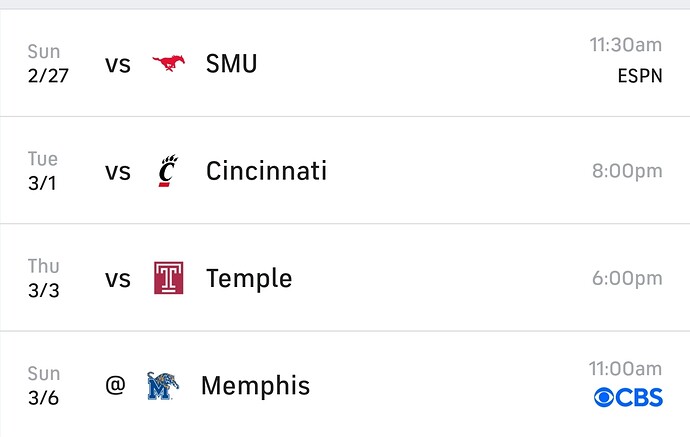 Oh I didn't know we still had a TV contract with CBS.
Please… sell… coffee… and some eggs maybe a little grits and hashbrowns with sausage.

I'll be on the west coast Sunday and watching that 9:30am tip off.
Somebody correct me if I am wrong. The way I figure it we can lose to SMU, win the rest of our remaining games, and still win conference.
Even though we would both have three losses (assuming SMU wins out also) UH would have one more win. It's unlikely that SMU will make up their WSU game at this late date.
Clearly beating SMU would be the easier path. We beat them and we could lose 2 remaining games and still win AAC.
There would be no tie breaker advantage for SMU since there mathematically could be no tie.
We beat SMU, win out but lose to Memphis we win conference, SMU would have 4 losses we will only have 3 losses
Penas Donuts on Shadow Creek will get our business early Sunday morning. If you are in the area it is a great place to go and owned by a great Coog!
Thinking the SMU game with WSU would be made up
We win out…… PERIOD !
On second thought, we win the next 3, forfeit the Memphis game thus hurting their NCAA chances, rest up, win the useless AAC tournament, then enjoy the NCAA tournament games !!
Can we forfeit a game without repercussions? I doubt it lol, would make us look bad across the country but we could use the rest
Morning beers at the Den

Just tell them all our players conveniently got "hurt" before the game.
We can say Chaney/Walker broke their hand again, Edwards ankle, Sheads's hamstring, etc.
With all the injuries we've been through this year I think we could pull it off tbh
4 games left, 3 are at home. I like that.
4 games in 8 days… I don't like.