Trying to see if I can make 1 or both of these games since its in my neck of the woods:
Soccer Hits the Road for First Away Series
Cougars travel around the Lone Star State for a pair of matches
http://www.uhcougars.com/sports/w-soccer/spec-rel/082416aaa.html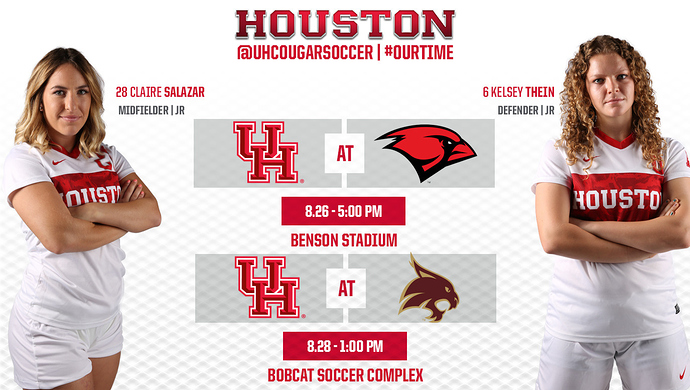 _OPPONENT PREVIEW _
Incarnate Word (0-1)
Cougars lead the series 1-0
Last Meeting: UH won 4-0, Sept. 4, 2015
Goals for: 4, Goals Against: 0
Friday will serve as a home opener for the Cardinals, who are coming off a 4-0 road loss against North Texas.
Texas State (2-0)
Cougars lead the series 7-2
Last Meeting: Texas State won 2-0, Aug. 21, 2015
Goals for: 14, Goals Against: 11
Prior to hosting the Cougars on Sunday, the Bobcats will travel to McNeese State on Friday. Texas State is currently 2-0 with two shutouts in wins over Lamar and Prairie View A&M.