Coogs should beat Temple.
Soccer Returns Home for Weekend Series
Cougars host Temple; Sunday against No. 21 UConn features annual Pink Match
http://www.uhcougars.com/sports/w-soccer/spec-rel/100516aaa.html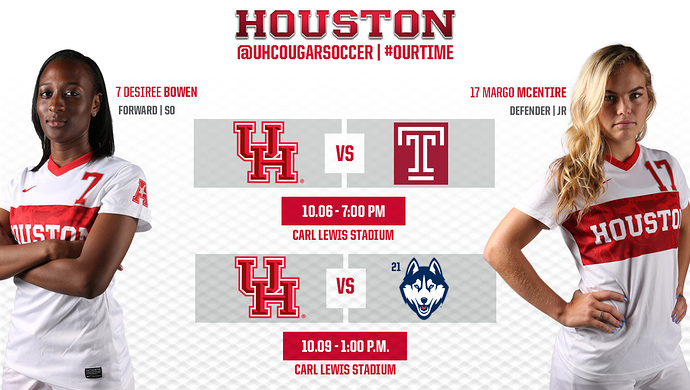 OPPONENT PREVIEW
Temple (3-9)
Owls lead the series 3-0
Last Meeting: Temple won 2-1 (Oct. 25, 2015)
Goals for: 1, Goals Against: 5
Temple hits the road to face the Cougars after dropping a tough decision to Tulsa, 2-1. The Owls are 2-5 on the road this season.
No. 21 UConn (10-2)
Huskies lead the series 2-0-1
Last Meeting: UConn won 2-0 (Oct. 22, 2015)
Goals for: 1, Goals Against: 5
Prior to playing the Cougars Sunday, No. 21 UConn will travel to SMU on Thursday. The Huskies are currently 2-1-0 on the road.
PROMOTIONS
Friday, Oct.6: Student Night
• The first 100 students to the game will receive free Papa John's pizza.
Sunday, Oct.9: Power of Pink
• The first 100 UH fans will receive a pink color changing cup.