Any word? I want to make sure I can make it this year
IMHO I don't think Coach likes spring games and I, for one, do not think we will have one.
Go Coogs !
Derek said no official spring game but a scrimmage that is open to the public.
What Glenn said above is what CDH has always put out w/ no hesitation. He doesn't like Spring Games. Does it his own way. Ok with me. The man went 12–2…I'm on the Wagon!!


A scrimmage is basically a spring game. lol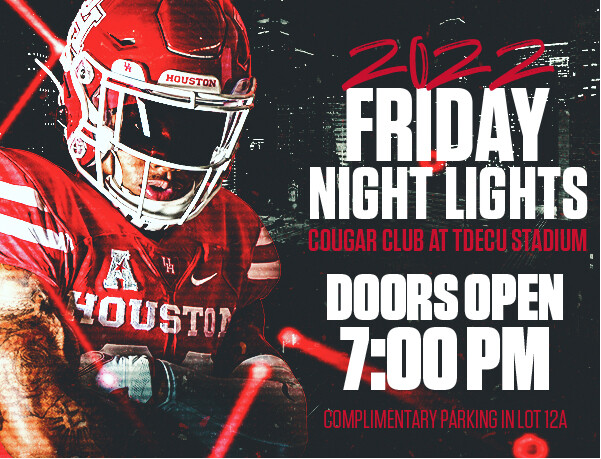 Friday, April 1st in the Cougar Club at TDECU Stadium.
The Friday Night Lights Event allows Cougar Pride Members at the All-Conference Club Level or above to enjoy a spring football scrimmage, take photos with the Birmingham Bowl trophy, complimentary dinner catered by Irma's Southwest and a cash bar. Complimentary parking in Lot 12A (Red/Platinum Reserved gameday lots) will be available.
The event will take place in the Cougar Club at TDECU Stadium with chairback seating available in the lower bowl of TDECU Stadium to watch the scrimmage. Signage will direct you upon arrival. Please enter through the Beth & Dan Bellow Club Entrance.
I have heard the open to public spring scrimmage will be 4/8. Not sure if that is accurate.
There is an open practice/scrimmage on 4/1 and 4/8. I am assuming it is open to anyone not just player's family.
Thank you, Do you happen to know the times?
Yes ma'am, 7pm and you can park in the TDECU parking garage across from the stadium. If I get anymore info or if it's not open to public I'll pass it on to you.
Good reason to practice tailgating
I feel like my tailgating game hasn't been up to my strict standards the last few years. Definitely need to up my game.
Practice makes perfect ! Including hangover solutions …you know…after big games .
Go Coogs !
Check your e-mails daily. A couple of years ago, we were invited to a gathering and told to park in the same lot. Did not see the cancellation and ended up with a 120 dollar parking violation . . . . .
Oh my yes! I can't tell you how many parking violations Derek has been slapped with! Campus patrol is relentless with that.
Tmom,
I would like to see the revenue generated by parking violations.I will bet it is a ton ! Also ,you cannot graduate if you have unpaid tickets. The voice of experience.
I know his dad and I have paid hundreds and hundreds in crappy parking violations! Ridiculous! But it is what it is. Not many options on campus I'm afraid. It's not just UH, it's every campus I've been told by the boys' friend's parents. They rake in the bucks with violations from students.
Open practice April 8 from 7-9. TDECU gates open at 6:30
I use to like the old rule if you had a parking pass you could park anywhere after 4. But then they took it off idk what year or changed it idr.
Or you could pay meters or park wherever economy or whatever the pass was designated to. I went i fiesta to see t pain this weekend and the garage to park for 1 to 3 hours in 3 dollars. Which isn't bad but idk if that varies on all garages.