Wochomurka Announces 2016-17 Schedule
Cougars to host four home events including 2017 American Championships
http://www.uhcougars.com/sports/w-swim/spec-rel/082916aab.html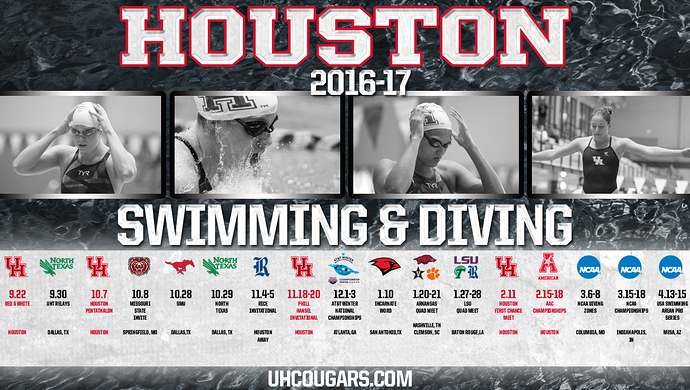 Houston is returning six of the seven student-athletes from the 2016 All-American Conference Team. Sophomore Eleanna Koutsouveli swept the backstroke events and podiumed in the 400 IM at the 2016 American Championships. Fellow Sophomore Hannah Herbst won the 500-yard freestyle and placed third in the 1,650-yard freestyle. On the boards divers Taylor Olanski will look to four-peat in the platform while Micaela Bouter looks to defend her 3-meter crown. Back in the pool, junior Ashley Grijalva won bronze in the 100-yard breaststroke and senior Jasmine Williams earned a bronze medal in the 100-yard backstroke.