http://www.uhcougars.com/sports/c-track/spec-rel/031418aaa.html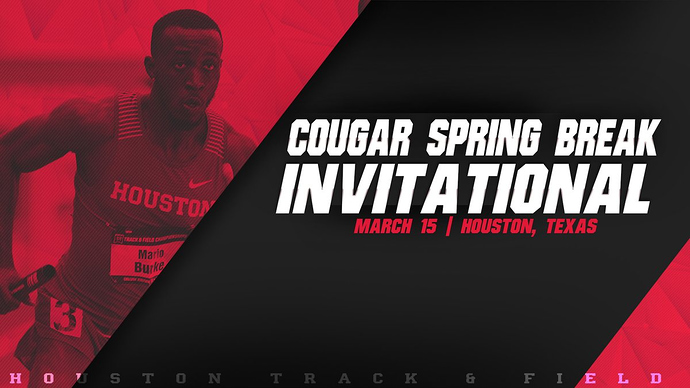 WHAT TO WATCH FOR
The 2017 outdoor season ended with a bang for the Cougar men's 4x100-meter relay squad, which claimed the NCAA Championship in the event in a school-record time of 38.34. The entire squad returns for the 2018 season, where they are scheduled to be in action in both the Cougar Spring Break Invitational as well as the TSU Relays.
The outdoor slate will see the return of two key seniors, who did not compete during the indoor slate due to exhaustion of indoor eligibility. Two of the most accomplished athletes in program history, sprinter Cameron Burrell and distance runner Brian Barraza will each make their returns to the squad during the outdoor season.
Burrell, the school record holder in each of the 60- and 100-meter dashes, was the anchor of the National Champion 4x100-meter relay squad and is a 3-time NCAA Championship Silver Medalist in the 60 (twice) and 100.
Barraza, Houston's first NCAA Indoor All-American in the 3,000-meter run, returns for his final campaign as well. In his storied career, Barraza holds five University of Houston distance records and wrapped up his third NCAA Cross Country Championship qualifying campaign in November.
A pair of throwers will also make their return to the Cougars for the outdoor season, including Jack Thomas, who missed the entire 2017 season due to an injury. Thomas specializes in the javelin, where he will be in action on Thursday. On the women's side, Taylor Scaife returns from a redshirt season during indoor to compete in the hammer throw at the home meet.
At the Spring Break Invitational, at least 20 Cougars are scheduled to make their outdoor debut at Houston, including a pair of freshmen in the hurdles. Naomi Taylor, the indoor silver medalist as a freshman in the 60-meter hurdles will compete in the 100-meter hurdles on Thursday, while Quivell Jordan will join All-American Amere Lattin in the 110-meter event for the men.