Fall Slate Opens with Rice Invitational
New Cougars open fresh schedule with cross-town trip
http://www.uhcougars.com/sports/w-tennis/spec-rel/092216aaa.html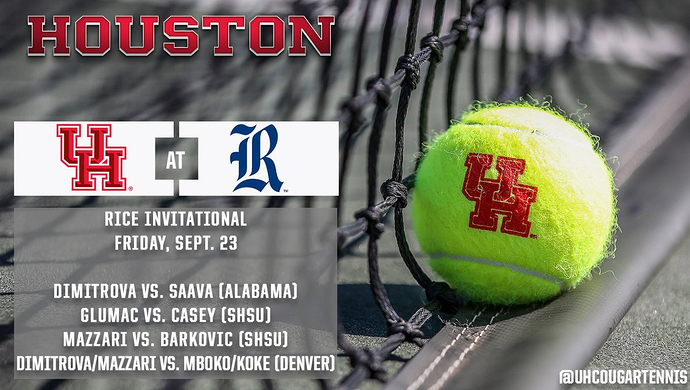 Nice to see this right off the bat. If this team can stay healthy, hopefully they can find some of the success they had 2 years ago.
Cougars Sweep Opening Day Matches
Houston wins three singles, one doubles match at Rice Invitational

Houston Continues To Impress at Rice Invite
Cougars go 4-1 on second day of tournament

Tennis team looked good this weekend. Good sign for the season.
Dimitrova Wins at Rain-Shortened Rice Invite
Houston finishes season-opening tournament with 9-1 record

TOURNAMENT RECAP
The Cougars went 9-1 during the rain-shortened Rice Invitational, including a 7-0 record in singles matches. Tsveta Dimitrova won all three of her singles matches in Flight 3B, while Sveva Mazzari and Ana Glumac went 2-0 to advance to their respective flight finals, however each of their Sunday matches were cut short with the Cougars on top.
In doubles play for the weekend, the tandem of Dimitrova and Mazzari compiled a 2-1 record while advancing to the flight finals. The duo dropped the first game of their opening match against Mboko/Koke from Denver before rattling off six straight to win 6-1. The following day, Dimitrova and Mazzari needed an extra game to defeat Sisti/Kurtz from Tulane 6-2, before eventually falling in a hard-fought match 7-5 to Durkin/Ho of Rice in Saturday's finals.
UP NEXT FOR HOUSTON
The Cougars will be back in action in action Oct. 6-8 when they head north on Interstate 45 to compete in the SMU Invitational in Dallas, Texas.