Now, explain to me:
1900 Galveston -Isaac's Storm
1911 Idaho/Montana - The Big Burn
1919 Corpus/Rockport/Port A
Was there "climate change" in the first 2 decades of the last century?
1919 - The Storm Nobody Talks About
September is a dangerous month on the Texas coast.
Hurricane Harvey was a September storm. So was the famous 1900 storm that shattered Galveston. There's also the September 1875 storm that did its best to wipe Indianola off the map.
And then there is the hurricane that devastated Corpus Christi on September 14, 1919. You never hear much about that one.
It left an official death toll of 284 with estimates of up to 500 more uncounted dead. Low-lying sections of the city were inundated by up to twelve feet of storm-driven tides.
All able-bodied men were conscripted to clear the streets which were hidden beneath feet of wreckage.
In the downtown, known as the beach section, buildings lining the bay were destroyed or heavily damaged, while the rest of the downtown was flooded with oil-slicked waters.
Men working to clear the streets. Strange what nature will spare. Notice all the power poles are still standing.
On North Beach, Corpus Christi's first suburban neighborhood of substantial residences, more than 220 homes were demolished by the storm tide. Those residents unable to reach the safety of high ground were swept into Nueces Bay to battle the storm and debris for their lives.
The flag flying from Judge Henry D. McDonald's home on North Beach indicates there are survivors in need of rescue.
Many died, but some survived the 14-mile struggle across the bay to come ashore at White Point or the Turner Ranch on the back side of Nueces Bay.
After the storm the downtown was filled with debris from shattered buildings and piers and thousands of cotton bales from the Municipal Wharf.
The storm surge soak cotton bales at the municipal wharf and turned them into battering rams. The bales were later salvaged and placed under federal receivership.
The cleanup involved the entire city and resulted in a mountain of debris piled at the edge of the bay at Hall's Bayou. The hurricane inspired Corpus Christi in its efforts to secure a deep-water port and build a protective seawall.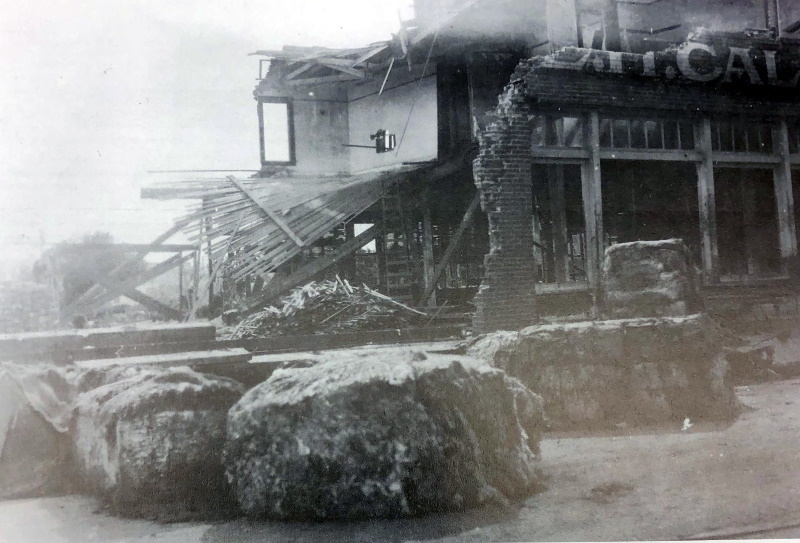 Waterlogged cotton bales and the damage they could do.
This is the first history of the 1919 storm to be published.
The late Murphy Givens collected the tales of survivors and newspaper accounts of the time and wove them into a gripping narrative of death and survival.
Jim Moloney organized photographs from the aftermath of the hurricane to give an understanding of the destruction and the clean-up task facing the battered city.
Also included are two first-hand accounts by survivors Theodore Fuller and Lucy Caldwell, five new maps, and a list of the dead.