Dan O'Brien was an amazing decathlete!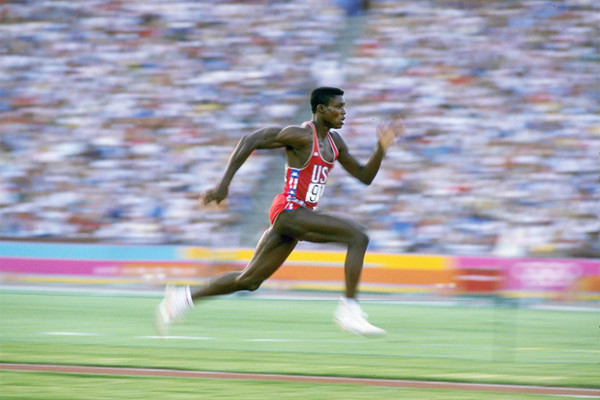 I told my wife the other day, it's almost time for my quadrennial women's gymnastics fandom.
I love it all, the track and field, the swimming, gymnastics, but also the main draw… Women's beach volleyball!
Hell, I'll even watch a few rounds of rowing and weight lifting.
There's also diving, Rugby Sevens, women's soccer, basketball…the list goes on and on!
As for women's gymnastics, there's our hometown heroine…the greatest of ALL TIME…Simone Biles!!!
And on top of that…there's that cutie Mykayla Skinner…YEOW!!!
What is everyone's favorite Olympics? For me it was Atlanta in 96. First one I was fully into (remember watching hockey from 94) and some huge moments. Will never forget Michael Johnson's gold shoes. Carl Lewis also got his last gold medal.
The 1980 Winter Olympics with its "Miracle on Ice" is the first of which I have good memory, and still my all time favorite.
The 1936 Summer Nazi Olympics in Berlin is probably the most historically important Olympic games though.
See Leni Riefenstahl's documentary.
If I am counting ones before I was born, yeah 1936 was most historical. Loved my visit to Olympic Stadium in Berlin. As a hockey fan, the miracle on ice is my favorite Olympics moment even though I wasn't alive to see it live.
I'm not a hockey fan at all; but even I got caught up in the miracle on ice. The Olympics have lost a lot of it's luster since allowing professionals. I haven't watched a single Olympic basketball game since they started being another pro sport exhibition. I watch the track and field, swimming and diving, women's gymnastics, some of the men's gymnastics (such as rings, pommel, parallel bars, but not floor exercise).
I have lost any interest in boxing and I used to love it.
Are you talking about the team sports or overall? I 1000% support pro track, swimming, etc. I like soccer being U23 since we already have the World Cup. Still have pros, but mainly see the young guys. Basketball in the Olympics is the only time you get to see the best players represent their country so I am a big fan of that. There was just the U19 world championships for basketball if you wanted to watch "amateurs". I agree Olympic boxing is not good anymore.
The best Olympics ever was LA84. McDonald's had the scratch-offs where you scratch off an event, and if US wins gold, you get free Big Mac, silver gets fries, and bronze gets free drink. You could get a new scratch-off, no purchase necessary, every few hours. I remember riding my bike to McD to get a new one every few hours. I'm sure the employees got pretty sick of seeing me. The soviets boycotted, US cleaned up, and I harvested big macs. Many thanks to Carl Lewis, Al Joyner, Alexi Grewall, Connie Carpenter, Steve Hegg, Joan Benoit, Greg Luganis, etc for the best summer ever.
1972 Munich. I was there. Ended up in the Olympic Committee Box for the Israeli athlete's memorial service ala Forrest Gump. Arrived by myself, no place to stay, didn't speak German and knew nobody in town.
11 days later, been to every major event including the US's loss to Russia in basketball. Met some athletes, Tom McMillan, Steve Prefontaine & Bill Russell. Was on German TV and ended up $100 richer than when I arrived from daily scalping of tickets.
Up until the killings, it was a total blast.
I'm with ya, man! Especially women's beach volleyball

Awesome story. Was there a reason you went out there originally?
Yeah, was getting drafted into the Army so I figured I go see something before I died.
I was mainly talking about basketball. As for anything else, I never cared for things that are up to judges, I think they are usually politically motivated. I did watch the golf tournament and found it a very exciting nail biter. I was hoping Morikawa would get the Bronze, but that plugged ball on the 4th playoff hole doomed his shot.
Race is about to start…….nbc
With three 400m women's hurdlers in the finals, including the NCAA Champ (Anna Cockrell), defending gold medalist (Dalilah Muhammad), and current world record holder (Sydney McLaughlin…YEOW!!!), we could see a medal sweep!!!
COME ON LADIES!!!
Sucks that all the live events are between midnight and 6am! Love the olympics. All the secondary sports are my favorites. Field hockey, badminton, shooting, archery, table tennis. This is the only time you'll see it on tv and the best competing. The new kids sports like bmx and surfing are stupid. What's next, dungeons and dragons being an Olympic sport?