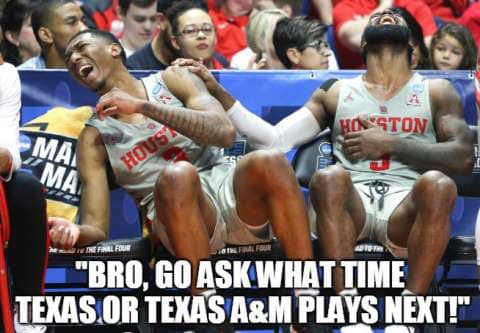 Nobody In Texas care tourney, longhorns were struggling to Xavier…hope they loss.
This is our first time to the sweet sixteen in over 30 years and we're making fun of other schools? lol, only at UH. Can't we just enjoy the ride without belittling someone else?
It is Texas and A&M, the two schools out of the four big state schools who get to share the permanent fund which should be shared by Tech and us as well. We need the state legislature to stop living in the 20th century and come into the 21st.
The management team at my office includes a Duke alum, Texas alum, and myself. I walked in to a meeting on Monday and asked for a show of hands, whose teams were still alive in the tournament.
UT alum raises his hand, lol. NIT doesn't count, Josh!
We all got a good laugh at his expense.
I agree with your comment Norbert. Let's enjoy our ride.
This is college sports… it's all about rivalries… and it's healthy. It's just fun. UT & A&M are renown for their arrogance. Whether or not we make fun of them won't change their arrogance one iota.
Yea but its our first time back since 84! Can we really talk trash to anybody? I'd rather pump up our accomplishment.
Totally agree with you Norbert. I understand this is college sports, rivalries, but first time back in 35 years does not give us the right to trash talk. Let the Whorns and Farmers enjoy the NIT and no post season, respectively.
Im sorry guys… but good grief. Y'all are creating an argument where one doesn't need to exist. Relax. Enjoy the ride. You don't want to poke fun at ut and a&m, then by all means don't, no one is demanding you do. In the meantime, Im gonna rib my horn and aggie friends a little. I'm not over on any aggie or horn boards gloating or posting. This is some Coogs only fun.
By the way… this came from the Coog's House Facebook group. People seem to be enjoying it.
How dare we joke about the #1 and #2 richest athletic programs in the country. We should give the recipients of the PUF money a pass. They can't help it if their basketball programs suck. Although they have tried, money can't buy Wins.
Well UT and A&M are the big dogs in Texas. Oops, that's us and Tech, in basketball anyway.
This is my satirical view of the situation.
Let's enjoy it all.
UT-College Station.
Is that enough of a joke?
Hey my disdain for UT and ATM are right up there with you guys, but talking trash about their programs when its our first time back since 84? That's weak and makes you guys look silly. Maybe after we go to the final 4 or go back to the dance 2-3 more times.
Gang,
Consider this.
aTm has NEVER been to an Elite Eight.
After we win on Friday, point that out to your Aggie friends/acquaintances/co-workers.
Can we trash talk? He!! yeah we can trash talk. I grew up and have been a Chicago Cubs fan for over 50 years. Had to eat more sh*t from my friends than you'll ever know. You don't think i gave it back after 2016?
So can we trash talk? Yes!!! When was the last time A&M or UT made the sweet 16? Not as recently as UH!!
This meme is from the chronicle on Chron.com. It was made by a staff member as were other ones from the tournament. Someone just happened to share it on here for a good laugh. And it is indeed funny. Chill.